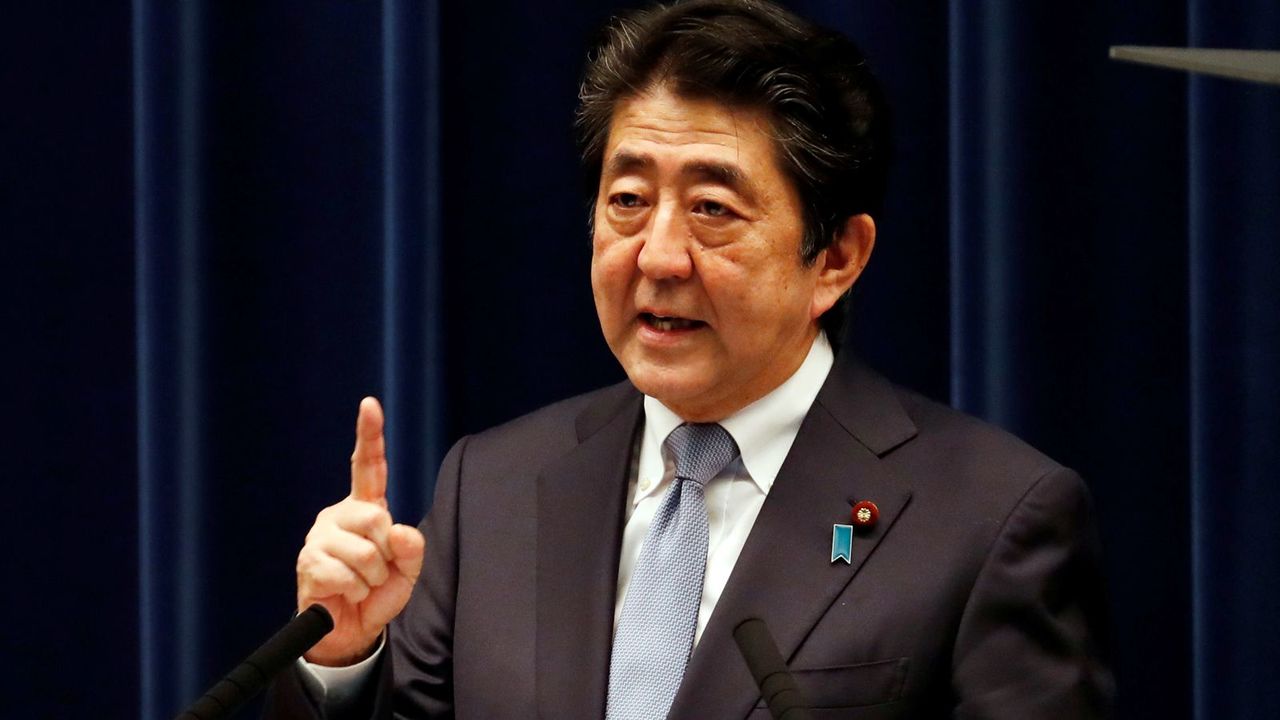 Are Prime Minister Shinzo Abe and President Donald Trump heading for a breakup? A story last week in the Washington Post suggested that the return on Abe's investment into building a close relationship with the unpredictable American leader has finally tapped out.
Tensions over North Korea policy and trade led the two men to a tense exchange during Abe's June visit to Washington, the paper reported, with Trump evoking the image of the Japanese attack on Pearl Harbor.
The reality is a bit more complicated. Tensions over North Korea policy and over approaches to trade relations are hardly new – they have been a constant of discussion between the two men since Trump took office. The fact that Trump's views of Japan are still rooted in the trade wars of the 1980s is also not news – this writer explored Trump's fixation with Japan as an economic enemy at the start of the administration.
What is really driving the current sense of unease in the U.S.-Japan relations is politics, for both men. Abe's narrow escape from political death this summer shapes his approach to relations with Trump. With the Liberal Democratic Party election looming on September 20, and an Upper House vote coming next summer, Abe and his political mastermind, Chief Cabinet Secretary Yoshihide Suga, are desperate to avoid any sign that the alliance with Trump is in trouble. American policy makers whom I met in Washington last week are highly aware of this reality.
"Abe and Suga don't want to show any daylight with Trump," a senior Republican policy maker with close ties to Japan told me, "especially before the LDP election." A public dispute with Trump would be a political disaster, one that LDP challenger Shigeru Ishida would immediately seize upon.
"Abe is afraid of some kind of Turnbull slap down," a senior administration official told me, referring to the well-publicized spat between Trump and the former Australian Prime Minister.
If Abe's political situation demands he keep things calm with the U.S., Trump's political needs drive him in the opposite direction. The President clearly believes a hard line on trade and immigration – both with a similar xenophobic appeal – are key to hopes for a Republican victory in the November 6 midterm elections.
With a deal with Mexico and possibly Canada in the works, Trump's attention will shift to imposing tariffs on China and to the next steps toward a massive tariff on foreign automobile imports, a measure that will hit Japan and the European Union most of all.
Inside the Trump administration, and among experts in Washington, the threat to impose auto tariffs, on dubious national security grounds, is taken very seriously.
"My operating assumption is that Trump will proceed with tariffs (on China, autos, whatever's next) until one of two things happens: the stock market tanks, or his political base pushes back," says former State Department and White House official Matthew Goodman. "Neither appears imminent."
The bright spot - security relations
The one relatively bright spot in U.S.-Japan relations remains in the realm of security. According to administration officials, Japanese officials were "apoplectic" about the results of Trump's summit with the North Korean leader in Singapore, particularly the suspension of joint military exercises with South Korea, a move that directly undermined Japanese security.
But at senior levels, Abe cabinet officials tell Americans that they support U.S. diplomacy, a stance that may not be entirely sincere but also reflects their confidence that the process will likely fail. Meanwhile, the Japanese government continues its own attempts to open talks with Pyongyang, though without much hope for success.
Security relations also offer a way to relieve trade tensions in the form of arms purchases from the U.S. According to administration officials, the Trump administration is pushing Japan to speed up its procurement of weapons and to opt for less capable, and cheaper, systems that can be delivered faster. The just announced Japanese defense budget, which allocates $2.1 billion for the purchase of two Aegis on-shore missile defense systems, is a response to that U.S. pressure.
The one danger area in security ties remains Okinawa. Although it is not getting much public attention, U.S. officials are closely watching the upcoming September 30 special election for the governor of Okinawa. Prior to the death of Governor Takeshi Onaga, U.S. officials were confident that the LDP-backed candidate, former Ginowan mayor Atsushi Sakima, would win the next election. That would effectively end the official opposition to the construction of the new U.S. Marine air base at Henoko.
The death of Onaga, and the sympathy vote that may have stirred, has now changed the calculation. Diet member Denny Tamaki, who leads the anti-base forces now, is a formidable candidate in the view of U.S. officials. "It is not a slam dunk anymore," says a senior administration official dealing with security relations. His victory could raise tensions over U.S. bases on Okinawa to new levels, officials worry.
The auto problem – again
Prime Minister Abe is now set to meet President Trump in New York on the sidelines of the United Nations General Assembly on September 25th, with a possible round of golf the day before. Trade is almost certain to be at the center of that encounter, even if other issues are nominally on the agenda.
The stage is already being set for this meeting with the U.S. deal with Mexico and possibly Canada to revise the North American Free Trade Agreement (NAFTA), including setting higher requirements for domestic content for autos made in those countries for the U.S. market.
This will make it harder for Japanese car makers, who operate plants in both countries, to import parts from Japan, as well as other inputs like steel and aluminum. "There is lots of protectionism weaved into these provisions," says Brookings Institution trade expert Mireya Solis, which is "not good news for Tokyo."
A new wave of tariffs against China is reportedly ready to go. And most importantly, we are likely to shortly see the results of the Section 232 investigation by the Commerce Department into foreign auto imports. That will give Trump a club of a threatened 25 percent tariff on some $40 billion worth of Japanese car imports into the U.S., potentially a major blow for U.S.-Japan relations.
"Japan was stoic on the metal tariffs because the volume of trade was not that large," says Solis, who heads the Brookings Center for East Asia Policy Studies, "but autos are central to the Japanese economy and to trade and investment relations between the two countries."
As we have seen with Mexico, Canada and the EU, Trump seems almost to delight in using these kinds of threats to extract concessions. "Frankly, I think the Trump administration would rather see what it can get out of wielding the threat without having to actually go through with it," argues Tobias Harris, an astute Japan analyst at Teneo Intelligence.
Japanese economy minister Toshimitsu Motegi is due to meet again this month with U.S. Trade Representative Robert Lighthizer. While previous talks have yielded nothing, they may again try to find some Japanese steps short of a broad bilateral trade pact that Trump can claim as a victory.
Trump is looking particularly for an opening of the beef and pork markets in Japan to present to voters in rural states who are hard hit by the trade war with China. "Showing to the base that 'trade agreements' are in the works with the EU and Japan would play really well," says Solis.
Until now, Abe and Japan have been able to keep a low profile on the Trump radar screen regarding trade – China, Mexico, Canada and the EU have been the bigger targets. But, warns Solis, "Japan is moving from the back burner to the front burner."
Abe, of course, has the opposite problem. He does not want to yield concessions to Trump on agriculture, or worse autos, that will directly harm the most important backers of the LDP, not only now but ahead of the Upper House elections.
"Abe is definitely not in a position to give anything on trade before the LDP election," believes James Schoff, a former security official and expert on U.S.-Japan relations at the Carnegie Endowment for International Peace in Washington. But Abe also doesn't want to be seen as failing in his claim to be the most effective manager of the alliance. Abe must balance those two pressures, not an easy task.
Despite the reported readiness of Trump to talk about the wartime past with Abe, close observers of the alliance do not believe the mercurial American leader has changed his view of the Japanese Prime Minister as a 'friend.' Abe is far from reaching the pariah status of someone like German leader Angela Merkel.
"Trump seems to like Abe," says Goodman, who is the senior advisor for Asian Economics at the prestigious Center for Strategic and International Studies, "but clearly that hasn't protected him from Trump's capricious trade actions."
As for Abe's political troubles, that does not apparently figure in Trump's calculations. "I doubt anyone in the White House give's Abe's political prospects a moment's thought," says Goodman.