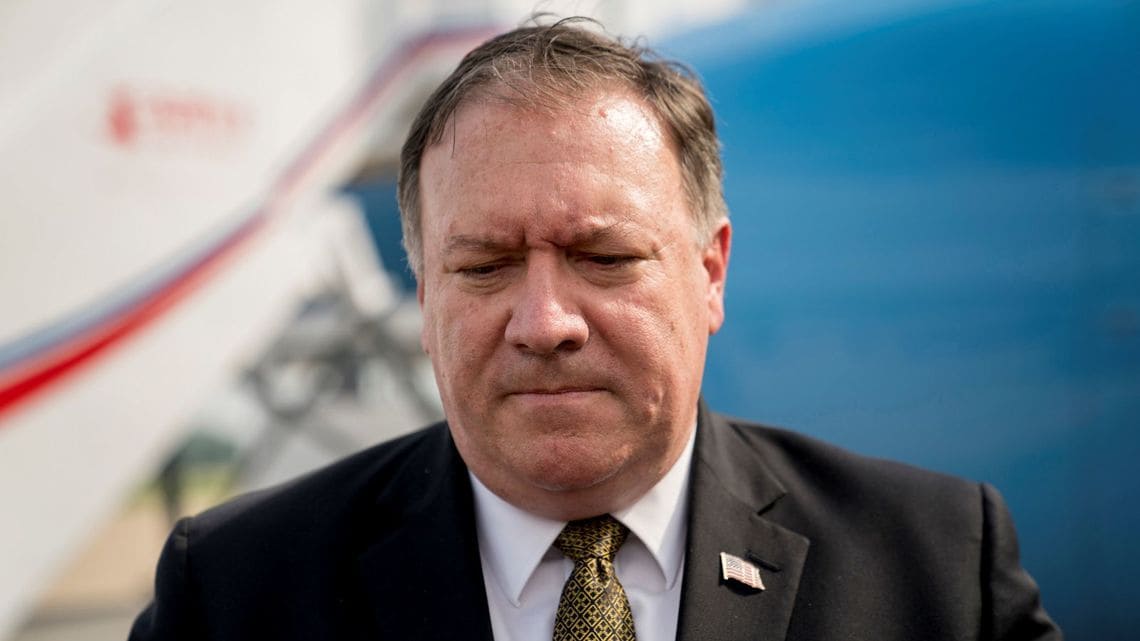 After last week, it would be easy to believe that Washington's North Korea policy is in a state of chaos.
Last Thursday, Secretary of State Mike Pompeo named a new special envoy on North Korea and announced they were heading together to Pyongyang for high level talks. Little more than 24 hours later, President Donald Trump, in a series of tweets, cancelled the visit.
Beneath the disarray, however, a certain order could be found. Based on conversations held this past week in Washington with senior administration officials, including two members of the North Korea negotiating team, as well as former national security officials who are consulted by Secretary Pompeo and the National Security Council, a broad consensus emerges. Interestingly, it is almost completely in sync with the views held by senior Japanese officials.
The foundation of this consensus is a profoundly skeptical view of the possibility of achieving "final, fully verified denuclearization of North Korea," the goal reiterated by new special envoy Steve Biegun. While there were some differences concerning exactly what might be achieved in the talks with Pyongyang, not a single official dealing with North Korea said he believes this ultimate aim is reachable. The only possible exception is the President himself.
The second pillar of consensus is a deep concern that the South Korean government of Moon Jae-in, which has driven the opening to North Korea, is no longer bound by the need to move in tight coordination with Washington. Some even fear the alliance itself may be in jeopardy.
As for China, the national security officials I met all tend to take a jaundiced view of Beijing's role. They see China as eager to use North Korea as a tool to drive the U.S. off the Korean peninsula. For now, they believe it still supports Washington's diplomacy, including maintaining large-scale economic sanctions, even if it is not ready to sharpen its pressure on the North Korean regime.
Finally, the spoken, and unspoken, aim of most professionals implementing North Korea policy is to hold off President Trump from meeting North Korean leader Kim Jong Un again. They worry about a repeat of the June spectacle in Singapore when Trump made significant concessions that undercut their attempts to seriously negotiate with the North.
Beneath the chaos, emanating mostly from the Oval Office, a four- sided containment policy exists – containment of North Korea, of South Korea's Moon administration, of China, and, most of all, containment of Donald Trump.
The Containment of North Korea
Inside the national security bureaucracy, there are no illusions that the suspension of testing of missiles and warheads by the North Koreans represents a move towards abandoning their nuclear capability. "The North Koreans are liars," a veteran of previous talks with Pyongyang told me. "I am not expecting happy results on denuclearization," a senior official who has participated in the talks said.
Every attempt to move to the specifics of denuclearization, including the July visit by Secretary Pompeo, has gone nowhere. North Korean officials refused to discuss concrete steps such as a declaration of North Korean nuclear facilities.
Instead the North Koreans keep referring to the Singapore declaration and insisting they reached agreement with Trump to move first towards an 'end to hostilities,' beginning with dumping the existing armistice agreement that is part of the foundation for the U.S. military presence in South Korea.
Indeed, when Pompeo tried to press the case for denuclearization steps, his North Korean counterpart Kim Yong Chol held up a cell phone and taunted him – "why don't you call your president?"
National security officials insist that even if the results are limited, the diplomatic process is still worthwhile to prevent a return to President Trump's war threats of last year. At the same time, they are trying hard to keep the economic sanctions pressure in place and prevent China, South Korea and Russia from breaking ranks.
The negotiators were ready to offer Pyongyang a "declaration for declaration" compromise when Pompeo visited again. In this deal, the U.S. would offer a "political declaration" of the end of the war in exchange for North Korea's declaration of its nuclear facilities.
"It will only be a statement of objective fact that the end of the war had occurred and would not be a substitute for a peace treaty," a senior official told me. The State Department has pushed this bargain, but the Pentagon worries this will give the North Koreans leverage to undermine the security alliance with South Korea.
Despite their skepticism about the negotiating process, "both would take that over anything the President would do," a former senior official in previous Republican administrations who is in close contact with this administration told me.
Still only hours before the President cancelled the Pompeo trip, a senior U.S. official predicted to me that North Korea would reject the declaration for declaration deal, confident they can get what they want from another Kim-Trump summit.
Pompeo, he told me, "is going not knowing if he is getting something." The North Koreans are just waiting to meet Trump again. "Their chances of success increase exponentially every time they see the President," he said. "It is a mistake for Pompeo to go."
The containment of South Korea
Inside the national security bureaucracy, there is growing alarm over relations with South Korea. On the surface, President Moon and his government continue to support U.S. diplomacy and reinforce its messages to Pyongyang. But things are starting to shift, with Seoul telling administration officials that the nuclear issue is basically between the U.S. and North Korea and that they want to separate their engagement with the North from progress on that issue.
"We have a big problem coming with South Korea," a senior official involved in the talks told me. "It has reached the point where the South Koreans are determined to press ahead. They no longer feel the need to act in parallel with us."
Moon is planning a visit next month to Pyongyang. He is eager to proceed with projects such as rail and pipe lines that will run from South, through the North, to Russia and China, as he outlined in a recent address.
Some officials warn that the U.S. is prepared to sanction South Korea if it proceeds. They believe Moon will not risk the domestic political cost of showing a visible gap with the U.S., particularly as his popular support is starting to soften. But others worry that a tough response may just deepen the split.
Even without breaking the United Nations resolutions, South Korea can provide massive supplies of food aid if the UN declares there are serious food shortages this fall.
The containment of China
Contrary to Trump's claim that China has eased pressure on North Korea, security officials all agree that the Chinese continue to enforce the economic sanctions, particularly on large scale flows of energy and food. They do report some softening on controls over border trade and the flow of hard currency through Chinese banks.
On September 9, Chinese leader Xi Jinping will stand next to Kim and watch a parade of North Korean might in Pyongyang. State Department officials remain hopeful that the Chinese need to be seen as a responsible power may yield more North Korean concessions on the nuclear issue.
But there is no evidence Xi is insisting Kim make significant new steps. "China is simply pressing North Korea to keep the process going," says the Republican former national security official. "That is all they care about."
Privately, senior officials do not echo the President's claim that Beijing is retaliating for tariffs. "We always knew that there was only so far they would go," says a senior official responsible for China policy. "They are cool customers."
The containment of Trump
The President's abrupt decision to cancel the negotiation team's visit to Pyongyang came after a one-on-one meeting with Pompeo. It was the President himself who pushed for this visit, having dispatched a letter to Kim asking him to receive Pompeo.
According to senior officials, Kim had agreed, unlike in July, to receive the Secretary. Pompeo, who prides himself on his ability to manage his relationship with the President, was ready to go but he was concerned about a repeat of the unproductive and embarrassing July experience. It is possible Pompeo himself pushed for the cancellation.
"Trump really wants to meet Kim Jong Un again," says the former official who has been consulted by the administration. "He thinks that he alone can solve it, based entirely on his personal relationship with Kim Jong Un. I don't think Pompeo wants a summit because there is nothing he can deliver." As the President stated in his cancellation tweet, he himself is still looking forward to that meeting.
Deeper inside the administration, there is a clear understanding of the challenge facing them. "The bureaucracy is unifying to protect the world from Trump," the former official told me. "They do not conceal their complete frustration and alarm with Trump."
End game?
Where does this go? Trump's volatility, exacerbated by his mushrooming domestic political crisis, makes this highly unpredictable. We may see a return to U.S.-North Korea talks following the visits of Moon and Xi to Pyongyang this month. Or we could see a dramatic split in our alliance with Seoul – something senior Japanese officials are warning Washington about on an almost daily basis. Or we could go back to the brink of war. Fasten your seatbelts.