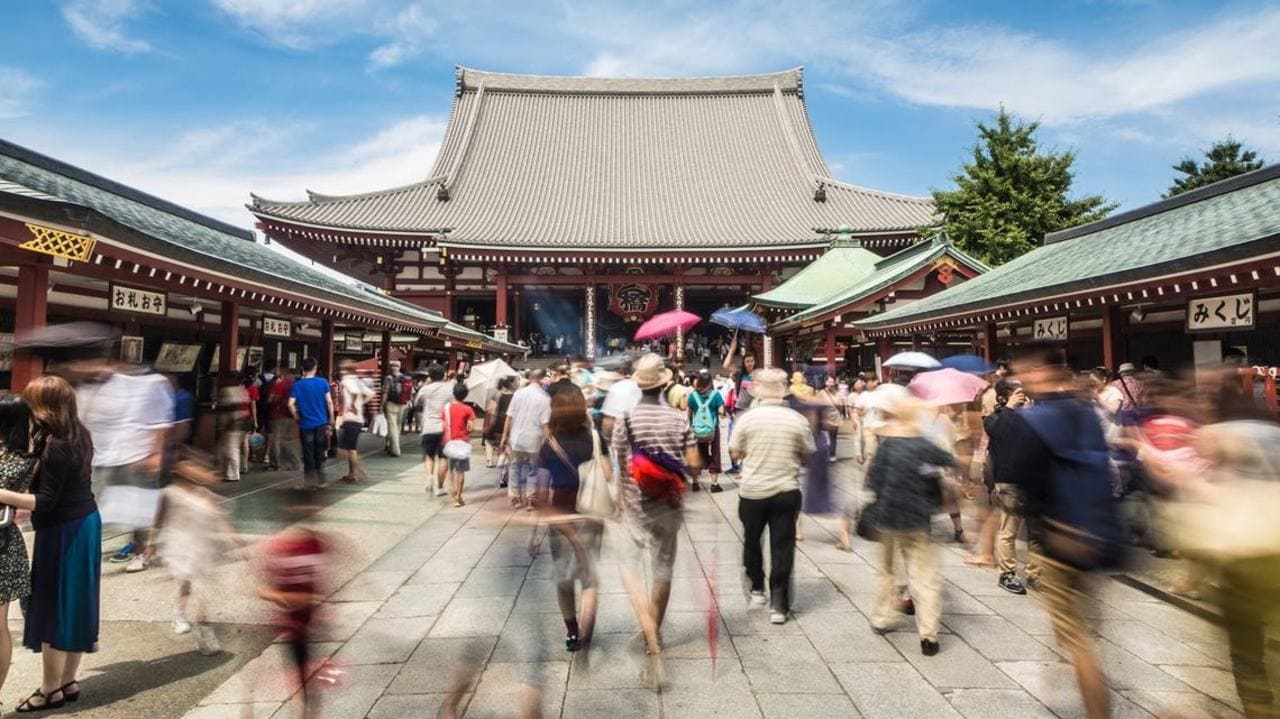 As anyone who is even remotely paying attention is already well aware, Japan is a nation that is currently experiencing an unprecedented tourism boom. Since about 2013, the annual total number of foreign visitors has continued to smash the record set just the previous year.
In a mere half-decade, Japan has almost tripled its inbound tourism performance going from 10.36 million in 2013 to nearly passing the 30 million milestone in 2017. In fact, recently it feels like one cannot go a few weeks without seeing a new monthly high being set. Of course, unless you've been living under a rock, none of this is really new. Still, the question of whether or not the trend will burn itself out following the Olympics in 2020 remains to be seen.
To answer this inquiry, it is critical to first examine the factors that initially kicked off this remarkable wave of inbound tourism. Rewinding back to before 2013, we find that Japan had never even once welcomed more than 10 million annual visitors despite having a plethora of alluring attractions.
Thereafter, the totals surged by the millions into what graphically looks very much like a hockey stick. This is puzzling and begs the question of what caused this unprecedented growth. At least as far as I can tell, in addition to increased efforts on the part of the government, the following three factors are to blame for the sudden spike:
- The relaxation of visa regulations for many Asian and Southeast Asian countries
- A significant drop in relative spending power for the yen vs. other currencies
- Falling travel costs thanks to the likes of LCCs and affordable vacation rentals
These developments all coincided with the rise of social media and the proliferation of smartphones. Though the local tourism industry has been slow to digitize, users of platforms like Instagram, Youtube and WeChat have blazed new trails for others to follow.
Additionally, these days, thanks to sites like TripAdvisor and the like, much of Japan has been put on the digital map. Even in the remotest areas, options for sightseeing and eating out are only a quick search away. Furthermore, these user-generated listings often also come with reviews to boot. Talk about convenience!
All of this content comes with its own problems though. While much of the country may already be codified into bite-size digital pieces, efforts to market and curate the existing information in the hopes of creating awareness are sorely lacking. This gives rise to a Wikipedia-like conundrum. You see, it is really hard to search for that which you don't yet know exists and most of Japan's regional areas have literally no awareness overseas.
As a result, many tourists either never find alternative destinations and default to the "known options" of Tokyo and Kyoto. This is especially true for tourists from Western nations who may never have a chance to visit Japan again and want to play it safe.
Lately, popular regions on Japan's so-called "Golden Route" are getting so crowded that it is putting stress on the existing infrastructure. For example, Kyoto has recently had to review its bus system in response to the overwhelming numbers of foreign tourists.
Similarly, options for available accommodations are becoming more and more scarce as the hotel industry struggles to keep up with the sheer volume of visitors. These days, it's neigh impossible to find something affordable with even business hotels seeing sky-high occupancy rates. And, with the new laws regarding vacation rentals taking effect, this problem is only poised to get worse.
Despite the overcrowding though, there still may be untapped markets to be explored, even in cities like Kyoto. For example, recently Daiwa Royal Hotel, a subsidiary of Daiwa Resort , has committed to opening four new hotels across Japan. Of these, the Daiwa Royal Hotel Grande Kyoto facility is the flagship and is perfectly positioned to attract visitors from abroad. Manned by nine bilingual staff, the property is able welcome a wide variety of guests.
What's more, the hotel itself has been designed from the ground up with inbound tourism in mind and heavily incorporates traditional Japanese motifs into its design. It even has free-to-use smartphones available in the room for visits that are provided by a company called Handy.
Still, like with Tokyo, Kyoto is an extremely competitive market. Whether or not Daiwa Royal Hotels will be able to leverage its experience in the hospitality industry to break through the noise and tap new markets remains to be seen. Especially for the Kyoto property, which recently opened on June 9, the company is betting on there being demand for the higher end of the accommodation spectrum.
Positioned somewhere between a choice business hotel and a listing with 5-stars, the Daiwa Royal Hotel Grande Kyoto facility is seeking to attract those looking to make their stay in the city just a little bit more classy. Equipped with arguably the best executive lounge in the city, Daiwa Royal Hotel's flagship seems up to the challenge.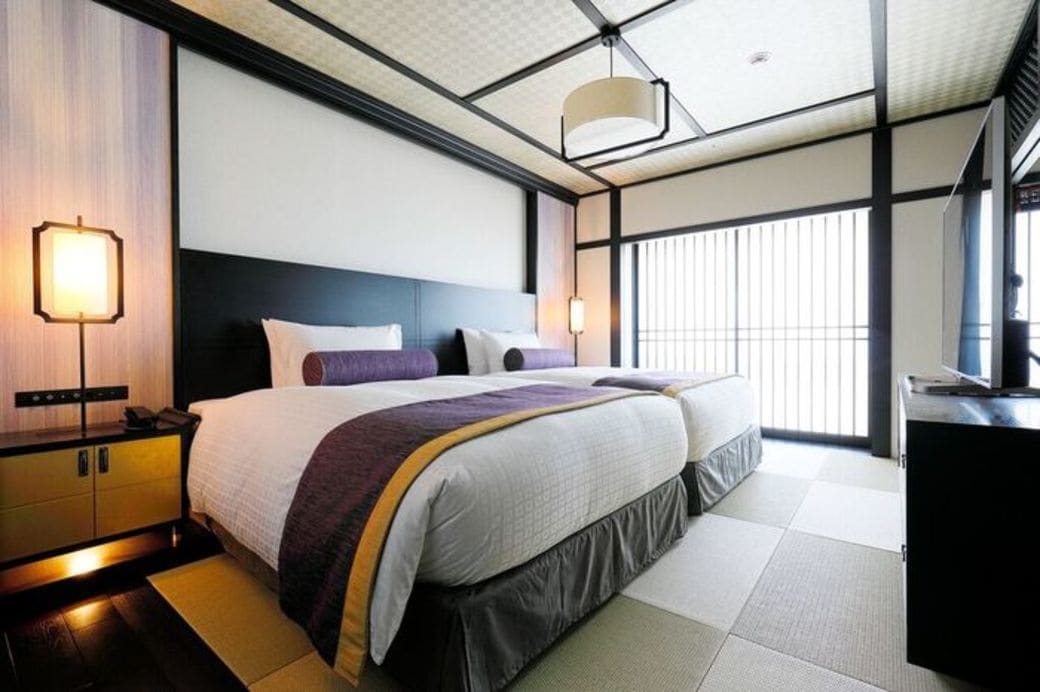 While some in the industry may be still tentatively skeptical about there being yet another hotel in Kyoto, things seem to look promising for Daiwa Royal Hotel Grande Kyoto. On June 7, I attended an opening press conference for the new flagship property along with several other travel bloggers. From what I could gather over post-event coffees with the other participants, everyone was quite impressed with the facility, both in terms of its convenient location and in terms of multi-lingual service.
Arisa Chow, a Malaysian model and blogger reported "I found it pretty strategic, and the hotel's concept is something that represented Japan's hospitality and culture in a modernized fashion. Definitely makes guests from all over the world feel at home. "
Unfortunately, even if the business endeavors of Daiwa Royal Hotels and other such hoteliers are wildly successful, Japan is still going to face major shortages if the government is serious about attracting more than 40 million tourists by 2020.
For this boom to not go bust, it will be absolutely critical to get more tourists out of the likes of Tokyo, Kyoto and Osaka and into the other prefectures. The major metropolitan areas are drowning in demand whereas more rural regions are dying of thirst. If sustainability is to be achieved, Japan will need to perfectly navigate these dual perils and better spread out the ever-increasing number of visitors.
Getting more sightseers out into the prefectures is not a simple task. For one, many areas lack the proper infrastructure to even welcome those who cannot speak Japanese. That said, the language barrier continues to be a major issue even in Tokyo so this cannot be the only factor keeping tourists away from more remote places like Tohoku or San'in.
Personally, I feel that the crux of the issue is a failure to address the "top of the funnel" as we say in the marketing world. Simply put, while the all the information already exists online, there is little to no awareness; No one knows what to even look for or even where to begin because nothing has been curated.
How can Japan tackle this issue? Well, bluntly put, the country needs to very quickly catch up with where the world is going, at least insomuch as it pertains to marketing itself. Currently, those calling the shots are woefully out of touch with how their potential audiences consume and find information. Stated more concretely, it is simply inexcusable in 2018 to be wasting money on flyers and whatnot while neglecting Facebook and Instagram.
After all, one needs an audience's attention first to tell their story. This problem largely exists because typically the individuals in charge tend to be greying, middle-aged men who don't understand the state of ad tech and marketing. As such, they rarely commit the necessary budgets required to generate meaningful results on social media, which to quote entrepreneur Gary Vaynerchuk, is the current state of the internet itself.
In practice, this lack of knowledge means that Japan rarely makes good use of technologies to tell its stories. Through the incredible targeting of platforms like Facebook, it is possible to reach just about any niche audience with a perfectly crafted message. Imagine, for example, if Kamakura were to position itself as a place where one could experience all the same things that tourists regularly go to Kyoto for, just without the crowds. To weave this story, the area would make a 3-5 minute long promotional video which would be shown to a carefully selected audience.
Then, to drive prospective travelers further down the funnel, image that anyone who saw more than 50% of the promo clip would be retargeted with an article containing sample Kamakura itineraries. All of this is possible with just a little knowledge of Facebook yet as far as I'm aware, no one's taking advantage of the possibilities to niche down and/or re-target.
This all said, it would be simply inaccurate to say that Japan hasn't made any progress at all though. In 2016, JNTO produced a stellar piece of video content titled "JAPAN - Where tradition meets the future." This three-minute clip ended up going viral and now has over eight million views on YouTube alone. Compared to previous blunders, this video was a huge success and inspired many to want to visit Japan.
Unfortunately, this social media sensation also suffered from the aforementioned conundrum of poor information curation. Though it indeed highlights some amazing spots all across the country, a viewer unfamiliar with Japan is left with no recourse other than blind Googling to figure out where these hidden gems are located. This shortcoming could have easily been fixed in advance by something as simple as adding place names and time stamps in the description had those in charge better understood their audience.
Moving on, in addition to marketing in the year we live in, one other key aspect that would behoove Japan is getting more knowledgeable and localized foreign input at all stages of development. Presently, the utter lack of diversity is leading to a lack of understanding of why tourists travel to Japan and what kind of experiences they are looking for. This in turn creates many blind spots as the consulting firm McKinsey Japan aptly pointed out in their 2016 white paper titled "The future of Japan's tourism: Path for sustainable growth towards 2020." They found that outside of Mt. Fuji and Kyoto, Japan's most well-known assets had almost no recognition abroad. Given the aforementioned lack of digital prowess, this is not exactly surprising.
At least as far as I can see from the outside, part of the solution to the diversity problem lies in actually listening to the opinions of non-Japanese who have vested interests. Here, companies like Daiwa Royal Hotels are on the right path with their multiple bilingual staff; the government would do well to follow their lead. Again referencing McKinsey Japan, the consultancy found that while awareness might be low, once survey participants became aware of a destinations narrative and/or cultural significance, they were very interested in going. The key though is telling the story in a way that works for each market. This is why knowing how to properly market in a digital age and diversity are so important.
Now, it would be unfair to say that there are no areas trying to bring in foreign experts. Through parlaying the attention that I've been able to generate through blogging about Japan's off the beaten path destinations, I've been privileged to work with a handful of local governments. Thus far, I have done digital marketing training seminars for the likes of Go Central Japan! and a number of other DMOs across the nation.
Despite having the right tactics though, actually implementing them has been difficult. From an outsider's perspective, I believe that this is because internal structures and hierarchies have calcified into what feels like an impassible gridlock. Even with champions for change on my side, it's no simple tasks to get the top brass to sign off on new projects.
Perhaps therefore the onerous of responsibility for getting more tourists out into the prefectures will eventually fall on the private sector. Indeed, lately there have been a number of companies like Oku Japan or the newly launched Heartland Japan that focus on offering bespoke tours to rural destinations.
Especially when it comes to affluent repeaters, these guided excursions into deep culture starch an itch that is regularly overlooked by the mainstream industry. If local governments were to work hand in hand with these light and nimble companies, who knows what kind of results might be possible. After all, generating income from interested and well-to-do travelers certainly seems like a promising alternative to otherwise fated slow but steady decline for greying municipalities.
In closing, if Japan wants to both achieve its numerical goals while also being more welcoming to affluent tourists, it will need to focus on better telling its story. After all, authenticity really does matter, especially when it comes to the types of visitors that the country professes it wants to invite.
Focusing instead on only numbers and the mass market will surely only lead to attracting the wrong type of travelers such as those who deface Arashiyama's bamboo forest. On a long enough timeline, this will surely cause Japan's tourism boom to eventually go bust. To keep the ball rolling, sustainability is necessary.