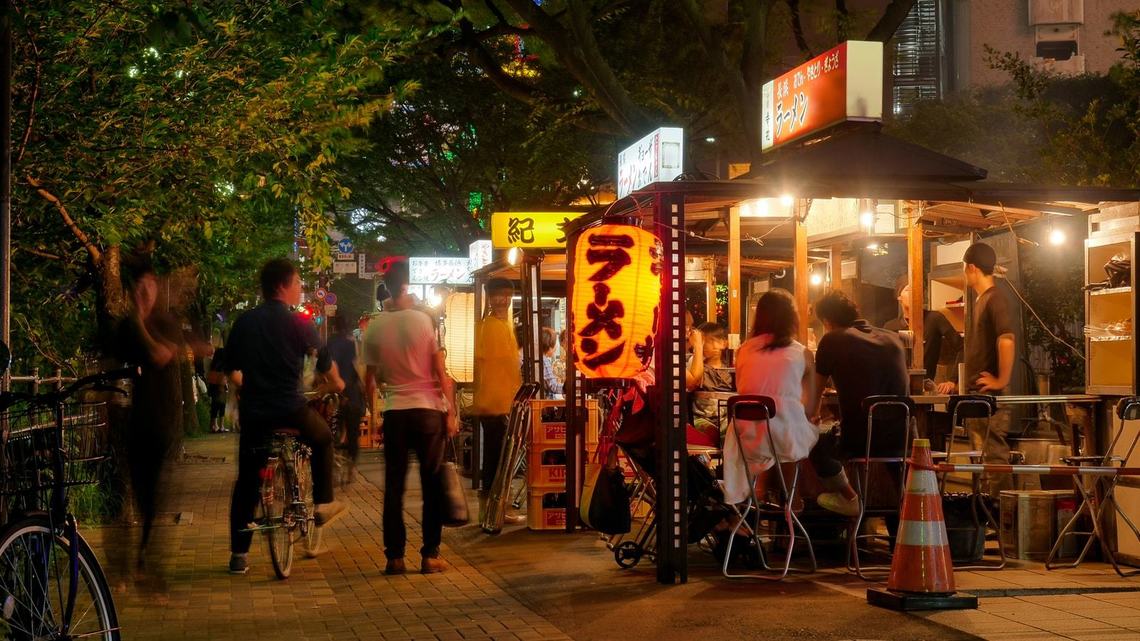 What do you associate with the word Kyushu? Perhaps images of sprawling natural scenery or rural villages come to mind. Much like Shikoku and Hokkaido, Kyushu is sometimes treated as an afterthought, not relevant to mainstream Honshu culture. Some even lump Kyushu and Okinawa together. Furthermore, many people living in other parts of Japan view Kyushu as a unified whole, a single region with shared characteristics.
First of all, Kyushu is not one big region, but multiple unique regions. It is actually quite large, containing seven prefectures and a total population of 13 million. Its biggest city, Fukuoka, is one of the country's largest, and Fukuoka's metropolitan area has the fourth biggest population nationwide.
Moreover, Kyushu is also one of the oldest parts of the country, and it is believed to have hosted some of the first human settlers from other parts of Asia. Its seven prefectures have diverse histories, cultures, climates and products.
Their culinary styles vary widely: together, they are responsible for creating, importing or popularizing a large portion of Japan's foods, including ramen, soba and udon noodles (Japanese staple foods), shochu liquor, chicken namban (a Miyazaki dish comprising sweet-marinated, fried chicken with tartar sauce), castella (a Portuguese-influenced Japanese sponge cake) sara-udon (a Nagasaki noodle dish with vegetables, meat and seafood and a starchy sauce), champon (a Nagasaki noodle dish similar to ¬sara-udon but served in soup form), motsunabe (a one-pot dish using organ meat), basashi horse sashimi, to name a few.
Furthermore, sake from Saga and Fukuoka have won numerous awards domestically and abroad in recent years, and Amaou strawberries from rural Fukuoka Prefecture have become bestsellers in Japan and around the world.
For the sake of convenience, let's divided Kyushu into three subregions: North, Central and South Kyushu.
North Kyushu
Fukuoka Prefecture is the most populous part of Kyushu and home to two of the largest cities, Fukuoka and Kitakyushu. Modern-day Fukuoka City was formed through the merging of the castle town of Fukuoka and merchant town of Hakata in 1889, and it is Kyushu's biggest metropolis, serving as the main commercial center and transport hub.
It is also one of the best foodie towns in the nation, with many tourists coming from afar just to try genuine Hakata ramen and other local dishes. Famous sites in Fukuoka Prefecture include Dazaifu Tenmangu Shrine and the Kyushu National Museum (one of only four national museums nationwide) in Dazaifu; the ultra-famous festivals (Hakata Dontaku Port Festival and Hakata Gion Yamakasa Festival) of Fukuoka City as well as the city's distinctive yatai (outdoor foot stalls).
Itoshima with its breathtaking beaches and tasty oysters and agricultural produce; and the combined Mojiko and Shimonoseki waterfronts straddling the Kanmon Straight that separates Kyushu and Honshu, which offer old retro-style architecture and an outstanding fish market serving the country's best blowfish cuisine and more.
Saga is known primarily for its sake and pottery. Despite Kyushu's common association with shochu, Saga residents barely touch the stuff, as they have a deep-reaching sake culture and produce some of the country's best. Arita and Imari are some of the oldest and most celebrated pottery towns in Japan, where craftspeople fused Korean and Japanese techniques to produce porcelain for the Japanese imperial family.
Karatsu has a charming seaside castle and some fascinating historic buildings, and nearby Yobuko offers some of the best seafood around. The Saga International Balloon Fiesta is an impressive sight that draws visitors from all around Kyushu.
As for Nagasaki, there are almost too many famous things to name. The city has a diverse culinary culture that mixes Chinese, Western and Japanese influences.
Dejima, the Peace Park, Chinatown and the city's cathedrals are also popular, and nearby Gunkanjima has become a major destination in recent years. The internationally famous "Ten Million Dollar Night View" of the city from Mount Inasa is also a must-see. The island of Hirado has a rich castle-town history and European Christian influences, the Dutch-themed amusement park Huis Ten Bosch is popular with families and couples, and the volcanic Shimabara Peninsula has some fascinating history and hot springs to enjoy.
Central Kyushu
Kyushu has an unusually high hot spring count, with Oita in particular boasting a staggering number—destinations such as Beppu and Yufuin are famous throughout Japan.
Kunisaki Peninsula is a picturesque peninsula jutting out into the Seto Inland Sea with Mount Futago at its center, permeated by ancient and syncretic Rokugo-manzan culture which mixes Buddhism, Shinto and mountain worship. Tourists often drive around the peninsula to see the numerous stone Buddha statues and carvings. The Kuju mountain range, on the other hand, is popular among hikers and campers.
Kumamoto Prefecture, which has seen an unfortunate drop in tourist numbers since the devastating 2016 earthquakes, is a diverse place offering something for everyone.
Kumamoto Castle is considered one of Japan's top three castles, and although it cannot currently be seen in full due to ongoing repairs, the view of its majestic black, dual-tower keep is still impressive. Nearby Suizenji Garden (Suizenji Jojuen) is one of the most beautiful Japanese gardens around, and Kumamoto City has a thriving culinary culture that includes basashi among other famous dishes.
Prefectural Kumamoto boasts a number of popular hot spring towns including Kurokawa Hot Springs and Hitoyoshi Hot Springs, and visitors can also enjoy sweeping plains and stunning natural scenery on Mount Aso as well as gorgeous ocean views and scrumptious seafood on the Amakusa Islands.
South Kyushu
Southern Kyushu is the home of strong liquor, Kyushu danji (the stereotypically hardy, masculine men of Kyushu) and smoldering volcanoes, and southern Kagoshima includes part of the Ryukyu Islands which become more Okinawan culturally the further southward one travels.
The warm, subtropical climate offers a wide range of citrus fruits and warm seas to enjoy. And of course both Miyazaki and Kagoshima are shochu mecca—drinking anything except sweet-potato shochu here borders on sacrilege.
Kagoshima Prefecture, formerly the Satsuma Domain, has a long history of trade and exchange with the former Ryukyu Kingdom, and Satsuma's history is also intertwined with the 1868 Meiji Restoration (an important event that resulted in the overthrow of the shogun-led government and the foundation of modern Japan)—many of Kagoshima City's sights are related to this history.
The lovely Sengan-en Garden boasts great views of smoldering Sakurajima (a volcano island) and the surrounding Kagoshima Bay, and high-quality Japanese Black beef and Kagoshima Kurobuta (locally bred Berkshire pork), as well as specialties including Satsuma-age and Kagoshima-style ramen, make the city a food-lover's paradise.
Smoke-spitting Sakurajima, occasionally punctuating the sounds of the city with an explosive boom, hosts hot springs and other attractions. Nearby Kirishima Hot Springs is one of the best hot spring resorts in Kyushu, and Ibusuki's relaxing seacoast sand baths are worthy of their fame.
Chiran, known for its samurai households and attached gardens, as well as for the sobering Chiran Peace Museum, a valuable museum on locally trained kamikaze pilots during World War II. And don't forget the UNESCO World Heritage Site Yakushima, an enchanting island that inspired Princess Mononoke.
Miyazaki is an expansive prefecture with a long Pacific Ocean coastline that attracts surfers from all over. Aside from the shochu and seafood, its attractions include the Nichinan Coast and its unbelievable ocean views, including the famous Oni-no-sentakuiwa ("Devil's Washboard") rock formations.
The Kirishima Mountain Range, which straddles both Kagoshima and Miyazaki, offers hiking and other activities in addition to hot springs. And inland Takachiho, with ties to ancient mythology including a famous tale of the important Shinto goddess Amaterasu, is popular among tourists and power-spot seekers alike. The Takachiho gorge, which can be explored by boat, is truly stunning.
Kyushu's Growing Appeal Among Foreigner Tourists
Visitors from abroad are flocking to Japan in increasing numbers. While the bigger urban centers such as Tokyo and Nagoya tend to draw more tourists, many have found Fukuoka to be a convenient transport hub: the airport and bullet trains (from Hakata Station) are just five minutes apart by subway, and the seaport handles everything from high-speed hydrofoil ferries (JR's Beetle and South Korea's Kobee) to cruise ships.
The numerous limited express trains, Shinkansen and highway buses can also whisk travelers off to other parts of Kyushu and Japan in no time, and a new Shinkasen line to Nagasaki is currently being built. Numerous LCC flights also make it easy to get to other parts of Japan and the world. Additionally, Fukuoka offers great shopping on par with other big cities in Japan, making it popular among weekend visitors from South Korea, China and other nearby countries.
Kyushu is attractive because it offers more than just big cities, and many Western tourists in particular feel the need to get out of the concrete jungle after a few days. The region has tons of natural sights to see; outdoor activities such as camping, hiking and surfing; and a staggering number of hot springs.
The cities and countryside are well-connected, making it easy to pop out and see the greener side of Japan anytime. And of course big-name sights such as Gunkanjima, Fukuoka, Yakushima, Beppu, Nagasaki and Mount Aso bring in visitors from all over.
Furthermore, the bigger cities in Kyushu offer all the conveniences of urban life while still providing glimpses into "the real Japan," which you won't get in massive melting-pot cities such as Tokyo or Osaka whose cosmopolitan atmospheres make them feel similar to other international cities like London, New York and Singapore. Kyushu is uniquely Japanese.
Unique Culture, Unrivaled Diversity
More than anything, Kyushu has its own culture that its people take pride in. Kyushu has historically been its own "country" of sorts within Japan, and it has always boasted high internal diversity. The appealing aspects of Kyushu's culture have spread readily throughout Japan, attracting domestic and international tourists alike. This growing popularity, combined with excellent transportation connections and complemented by an off-the-beaten-path feel, make it a truly appealing destination.
So come and see Nagasaki, Fukuoka, Beppu, Aso and Yakushima, but also take a few extra days to drive around the Satsuma Peninsula, explore the syncretic culture of Kunisaki, see the recently designated UNESCO "Sites of Japan's Meiji Industrial Revolution," visit a brewery in Saga Prefecture or see the castle and churches of Hirado Island. By spending a little more time in Kyushu and viewing it as seven diverse prefectures rather than a small, homogenous area, you may be surprised at what you discover about Japan.