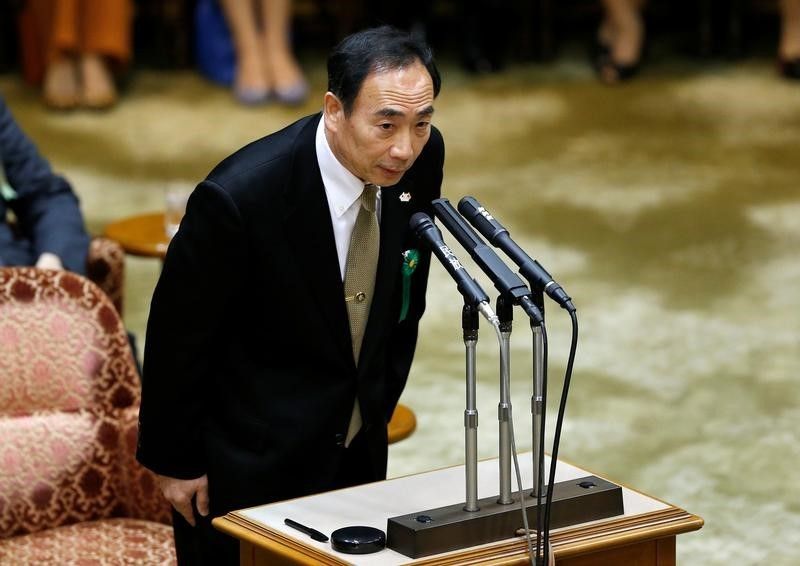 TOKYO (Reuters) - Japanese Prime Minister Shinzo Abe is coming under fire for possible links to a nationalist school whose principal says Abe's wife donated 1 million yen, or about $9,000, in 2015. Here's a closer look at this emerging scandal and implications.
What brought the school to attention?
Moritomo Gakuen runs a kindergarten that teaches students a curriculum reminiscent of pre-World War Two Japan, including devotion to the emperor and sacrifice for country. Principal Yasunori Kagoike heads the Osaka branch of Nippon Kaigi or Japan Conference, a nationalist lobby group with close ties to Abe.
Last month, it was forced to apologise for online comments described as possible hate speech against Koreans and Chinese people. Abe was also grilled in parliament about possible ties to the school, including whether he knew his name had been used to solicit donations for a new elementary school.
What's at the centre of the scandal?
Moritomo Gakuen bought state-owned land for the school for just 14 percent of the appraisal price, raising questions. Officials say the discount was to account for cleanup costs.
Abe has said that neither he nor his wife intervened in the land deal or helped the school get accredited, and that he would resign if evidence to the contrary were found.
How did Abe's wife, Akie, get involved?
Akie was set to be the honorary principal of the elementary school and had visited several times. She cut her ties with the school when the controversy erupted.
Kagoike told parliament Thursday that in 2015 she gave him an envelope containing 1 million yen, saying, "Please, this is from Shinzo Abe." If it turns out he lied, he could face perjury charges. Akie denied this on social media, and her husband repeated the denial Friday in parliament.
How could it affect Abe?
The controversy is the biggest crisis to face Abe since he returned to office in 2012 for a rare second term. It has eroded his support rating some, although it remains above 50 percent, and could threaten his ambition to be the country's longest-serving premier.
For now, Abe looks likely to ride out the scandal, although his defence minister, Tomomi Inada, has links to the school, having appeared in court on the school's behalf years ago.
How is it affecting markets?
Investors said concern about the controversy weighed on stocks Thursday before Kagoike testified, sending the Nikkei stock index to a 1 1/2-month low. On Friday the index gained as attention shifted to a weakening in the yen.
($1 = 111.2900 yen)
(Reporting and writing by Elaine Lies; Editing by Malcolm Foster and Michael Perry)