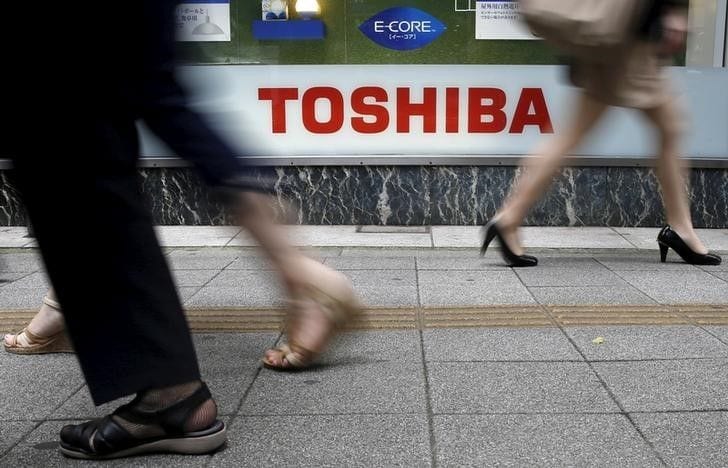 TOKYO (Reuters) - Toshiba expects its chips and devices division, its biggest profit driver, to beat its annual earnings forecast on favourable currency rates and strong demand for flash memory chips, the head of the division said.
The sprawling conglomerate has been pinning its hopes on a strong performance in semiconductors, as it seeks to recover from a $1.3 billion accounting scandal last year. It is the world's second biggest maker of NAND flash memory chips after tech giant Samsung Electronics.
"It is highly likely that the division's profit will overshoot the current forecast," Yasuo Naruke, the senior executive vice president in charge of the business, told Reuters in an interview on Friday.
Toshiba just last month forecast that the division will generate an operating profit of 130 billion yen ($1.1 billion)for the financial year to end-March. That accounts for the bulk of the company's overall operating profit forecast of 180 billion yen.
The yen has declined 11% against the dollar since Donald Trump was voted in to be the next U.S. President, boosting earnings for Japanese exporters.
Orders for NAND flash memory chips from Chinese smartphone makers have also been brisk.
"Strong demand from Chinese smartphone makers is likely to continue until at least next summer, as they are expected to keep shifting to chips with higher storage capacity," he added.
Naruke also said that Toshiba expects to invest around 1 trillion yen in its flash memory chips business for the three years from April 2019, up from 860 billion yen for the three years prior.
He added that Toshiba had done much to catch up to Samsung in advanced NAND flash memory chips that have a three-dimensional stacked cell structure, which were first mass-produced by its South Korean rival in 2013.
"Toshiba was said to be two years behind Samsung, but I believe we've caught up technology-wise," Naruke said. "We may still be behind in mass production expertise, but will go head-to-head next year."
Analysts have said that any bullish investment plans in NAND to compete with the likes of Samsung could be restrained by Toshiba's capital base which has been badly hit by the accounting scandal and subsequent business overhaul.
Naruke played down such concerns. "We have various options, including a capital increase," he said.
He said, however, that aggressive investment plans by government-backed Chinese chip players were a long-term threat.
Their efforts to acquire U.S. chip and data storage firms have been so far blocked by U.S. regulators on security concerns but they could use their ample funds to attract engineers from all over the world, he said.
($1 = 118.17 yen)
(Reporting by Makiko Yamazaki and Kentaro Hamada; Editing by Edwina Gibbs)