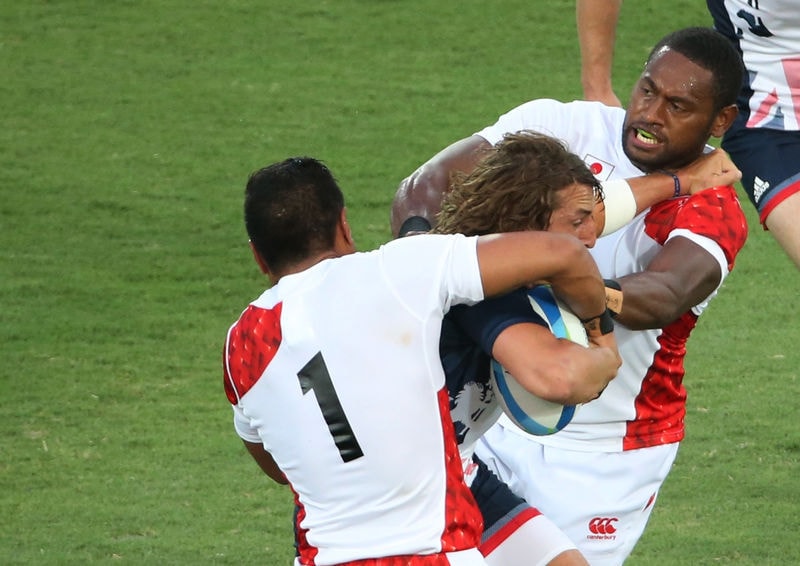 By Jack Stubbs
RIO DE JANEIRO (Reuters) - Japan is rapidly becoming a force to be reckoned with in world rugby after a series of upsets at the highest levels of the game, Olympic sevens player Lote Tuqiri told reporters on Tuesday.
Japan pulled off a surprise 14-12 win over New Zealand on the first day of the sevens competition in Rio, one of the biggest shocks in sevens rugby history and a major blow to the All Blacks hopes of becoming the sport's first Olympic champions after losing Sonny Bill Williams to an Achilles injury.
In echoes of their victory over South Africa at the Rugby World Cup last year, the Japanese showed no deference to the superpower of the international game, both on and off the pitch.
"It's a pretty big day for Japanese rugby," said Tuqiri, who was born in the veteran rugby nation of Fiji. "Sevens is not really a big thing back in Japan, it's just the fifteens and look what the fifteens did in the World Cup.
"We're coming here, not just to make up the numbers. We came here to give a good run to all the big boys."
Japan will host the next rugby World Cup in 2019 and the Tokyo Olympics the following year.
After another close match against Britain in Rio, narrowly losing 21-19 due to a scuffed conversion after the final whistle, Tuqiri said rugby could soon challenge some of Japan's more popular sports such as soccer.
"How Japan finished in the World Cup was really a big boost for Japanese rugby," he said. "Hopefully our win against New Zealand will really boost it to another level."
(Reporting by Jack Stubbs; Editing by Bill Rigby)