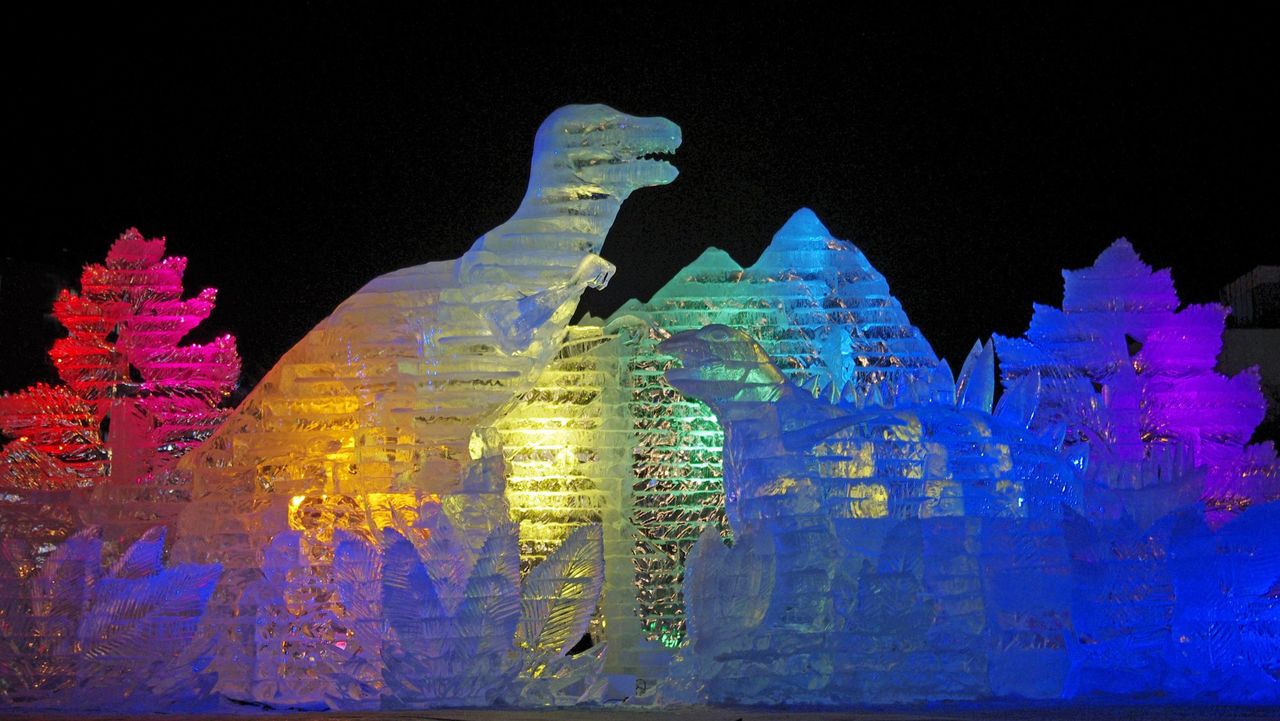 Resisting the urge to stay indoors takes great courage, especially in the winter. Days get shorter, and leaving the cozy house is an everyday struggle.
On the bright side, Japan has some of the best snow and winter activities renowned worldwide; and the best part is that you don't have to be a ski enthusiast to enjoy the snow this season!
Japan is home to a number of breathtaking snow festivals that take place each year, some enormous and monumental, others cozy and intimate. Rakuten Travel has hand-picked the 10 must-see snow festivals that are definitely worth leaving the house for! So grab your coat and go experience the fairytale snow festivals this winter while they are still frozen!
1. Yokote Kamakura Festival (Akita)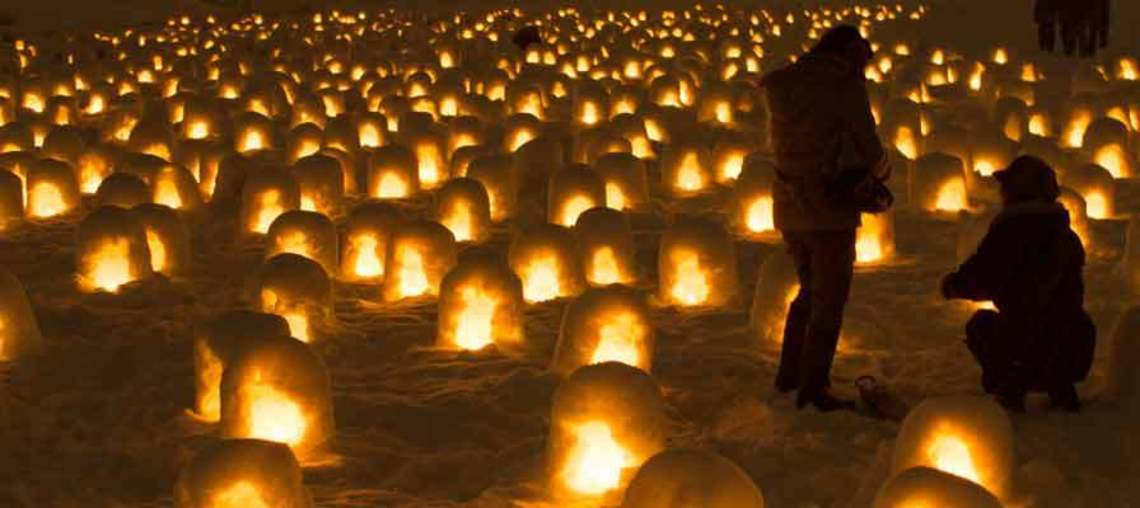 Akita Prefecture, seeing a healthy growth in reservations this winter1 by nearly is home to a 450+ year old snow festival tradition that consecrates a water god.
During the festival, 100 snow huts are installed throughout the city and children recite local hymns, encouraging visitors to enter the huts to admire the water god. Amazake (sweet sake) and mochi (rice cakes) are offered to guests.
Date and time:
February 15 - 16 (6:00 p.m. - 9:00 p.m.)
2. Sapporo Snow Festival (Hokkaido)
Perhaps the most famous snow festivals taking place in Japan is the Sapporo Snow Festival of Hokkaido, world renowned for its dynamic and intricate design, attracting over two million visitors each year. The Sapporo Snow Festival is held at three major sites in the city over seven days. From sculptures of famous landmarks to mythicalcreatures, the spectacular Sapporo Snow Festival will not disappoint!
Date and Time:
Odori site: February 5-11, 2016 (24 hours. Note: illumination is until 10:00 p.m.)
Tsudome site: February 5-18, 2016 (9:00 a.m.-5:00 p.m.)
Susukino Site: February 5-11, 2016 (24 hours. Note: illumination is until 11:00 p.m.; closes at 10:00 p.m. on the last day)
3. Zao Snow Monster Festival (Yamagata)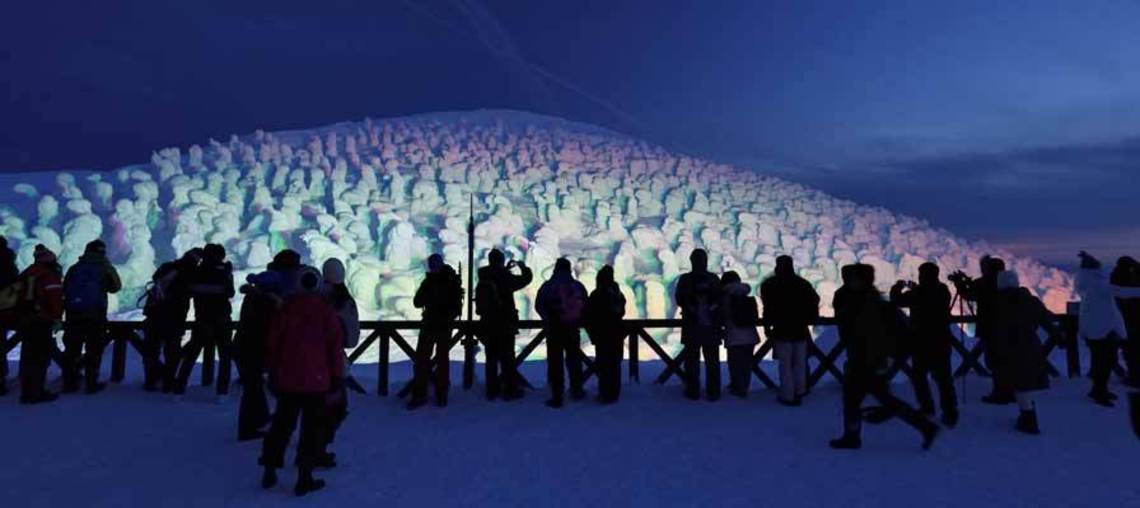 When the temperatures drop, the trees along the Zao mountain range in Yamagata Prefecture naturally freeze and turn into peculiar shapes, creating works of art called "snow monsters". With reservations up 70% this winter, tourists from the world over will stop by to catch a glimpse of the rare snow monsters. The frosted trees around Jizo Sancho Station on the Zao Ropeway are some of the finest, which glisten in broad daylight. At night, the snow monsters are illuminated, creating a
frosty vista that is truly out of this world!
Date and time:
January 9, 10, 16, 17, and 23 through February 28 (5:00 p.m.-9:00 p.m.)
4. Aizu Painted Candle Festival (Fukushima)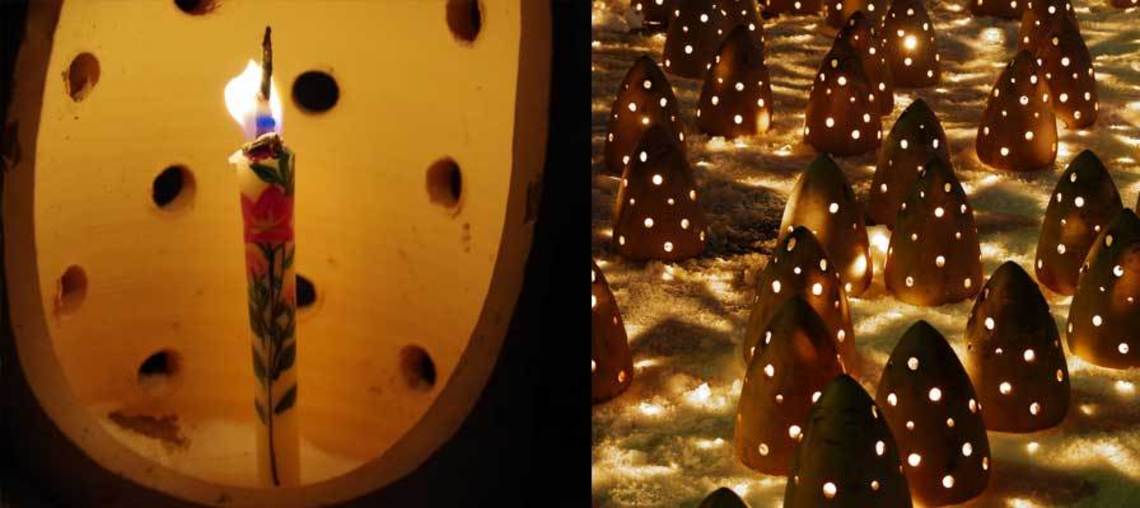 Aizu painted candles, or erōsoku are one of the traditional crafts of Fukushima Prefecture. Dating back over 500 years, the traditions to decorate the candles with floral designs still continue to this day. The Aizu Painted Candle Festival, dedicated to the erōsoku of Fukuoka, lasts for three days where ten thousand candles are lit up around the Tsuruga Castle, creating a serene and magical atmosphere. Reservations for February have nearly doubled, so we can predict more tourists to visit the Aizu
Painted Candle Festival this winter.
Date and time:
February 11-13, 2016 (5:30 p.m.-9:00 p.m.)
5. Yunishigawa Onsen Kamakura Festival (Tochigi)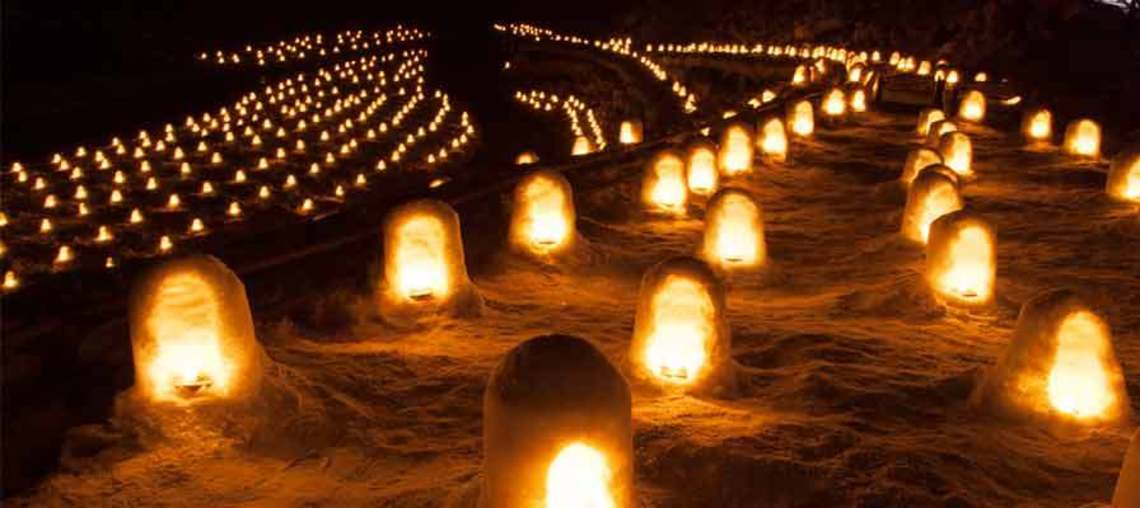 Located in Tochigi Prefecture, an area which is attracting 51.4% more reservations this winter, is home to the Yunishigawa Onsan Kamakura Festival. Every sinter, the snowfalls are rich and deep, creating a picture-perfect winter image of snow-huts, snowmen and snow lanterns. By day, visitors can enjoy barbecues held inside the snow huts (or, kamakura) at the Heike no Sato, as well as the local cuisine, sweets and amazake. By night, tourists can admire the marvelous illuminated snow huts.
Date and time:
February 11-13, 2016 (5:30 p.m.-9:00 p.m.)
6. Ouchijuku Snow Festival (Fukushima)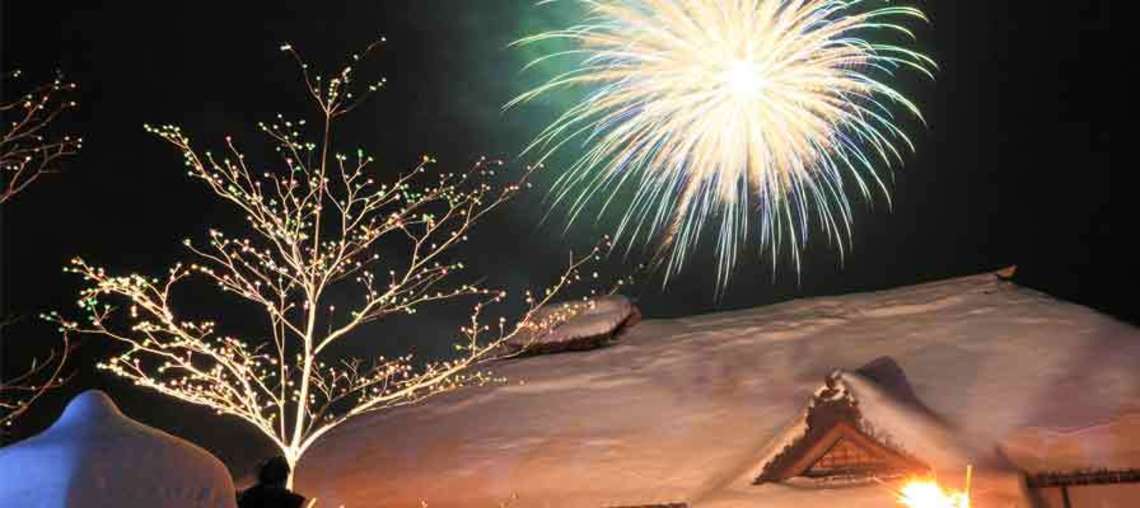 Located in Fukushima, Ouchijuku has been designated as an Important Preservation District for Groups of Traditional Buildings, and it is here that a special snow festival is held for one weekend only. Countless snow lanterns are installed, along with unique events ranging from the costume festival, traditional dances, to noodle eating contests.
The highlight of the festival is the evening fire ceremony, where local men wrapped in loincloths light each of the lanterns one by one. A large fireworks display goes up to kick off the festival, coloring the night sky.
Date and time:
February 13 (from 1:00 p.m.) and 14 (10:00 a.m.-3:00 p.m.)
7. Urabandai Snow Festival (Fukushima)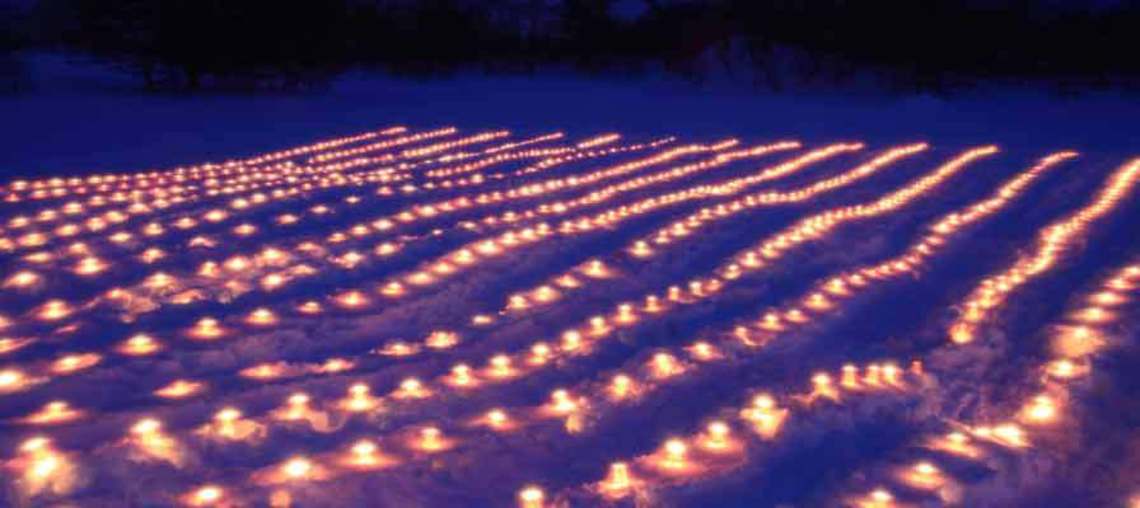 The city of Urabandai has fun-filled activities like snow treasure hunts, ice cream and craft workshops to uplift your spirits. The main event of the area, the "Eco Night Fantasy" starts from 5:30 pm on the first evening of the festival, where 3000 candles are placed on the frozen lotus pond. Visitors can get involved by placing their own candles to contribute to the beautiful winter scenery!
Date and time:
February 19, 2016 (12:00 p.m.-8:00 p.m.), February 20, 2016 (10:00 a.m.-4:00 p.m.), February 21, 2016 (10:00 a.m.-4:00 p.m.)
8. Hirosaki Castle Lantern Festival (Aomori)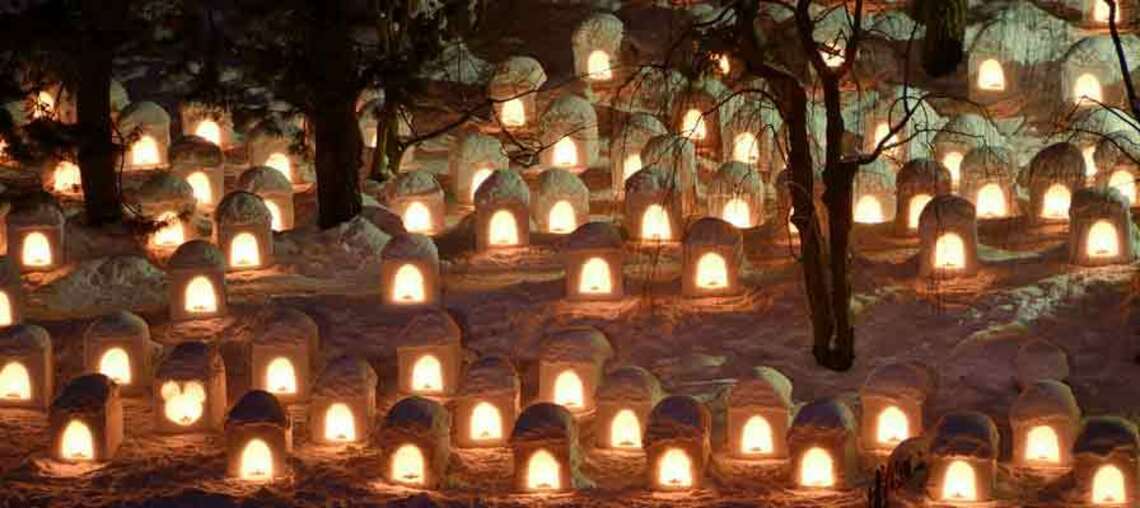 Aomori Prefecture, with reservations up 92.1% up for February, is home to the famous Hirosaki Castle Lantern Festival. A range of lanterns and snow sculptures can be seen throughout the castle park -- 150 of them to be exact! 300 miniature snow huts with lanterns also dot the lotus pond, creating a magnificent sight.
Date and time: February 11-14, 2016 (9:00 a.m.-9:00 p.m.)
Lantern and snow sculpture illumination begins around 4:30 p.m. (dusk)
9. Kamihinoki-nai Paper Balloon Launch (Akita)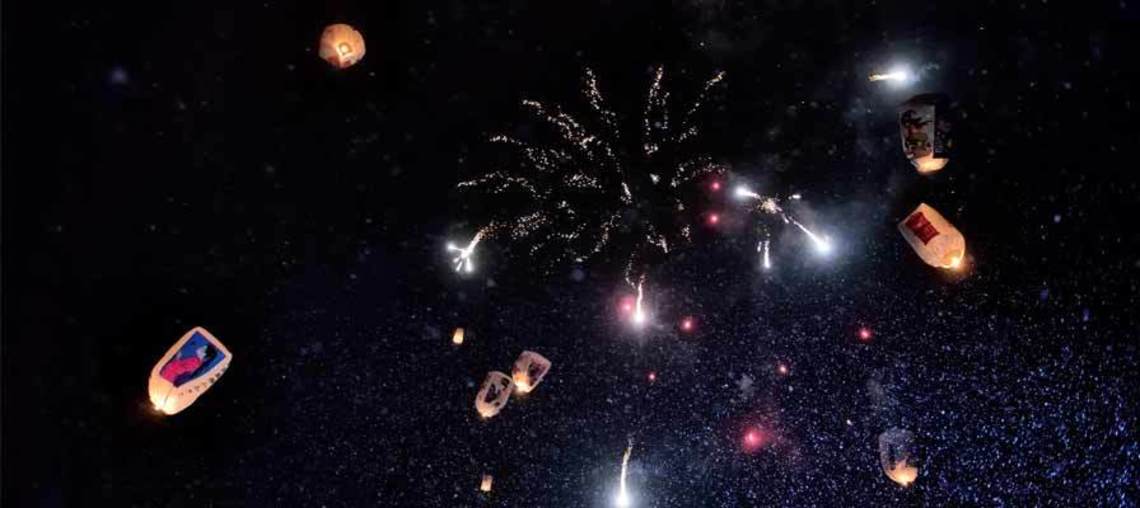 Massive paper lanterns with images of warriors and beauties fly up into the winter night sky at the Kamihinoki-nai Papper Balloon Launch. The lanterns contain cloth balls soaked in kerosene; when lit, the heat works like a hot air balloon, pushing the lantern aloft. One hundred lanterns, with messages of prayer from participants, ascend to the heavens. The lanterns are launched between 6:00 p.m. and 8:30 p.m. this year, on February 10.
10. Iwate Snow Festival (Iwate)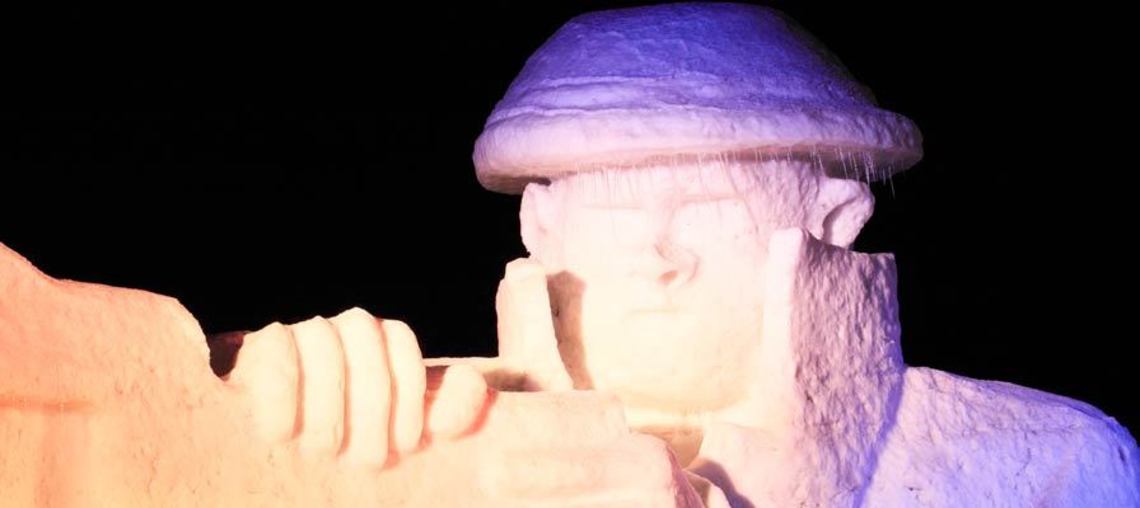 One of the most popular attractions in Iwate Prefecture, an area bringing in 63% more reservations this winter, is the Iwate Snow Festival. Its main attractions include a vast labyrinth made of snow, a 4 meter tall snow slide, fireworks and snow huts where you can sample "Genghis Khan" (a grilled mutton dish), to name but a few. At night, the snow and ice sculptures are illuminated in a rainbow of colors.
This year, visitors can expect new additions to the festival: an extra snow sculpture as well as the Snowman Contest where you can create your own snowman and submit it to a vote!
Date and time:
January 30-February 7, 2016 (9:00 a.m.-9:00 p.m.)