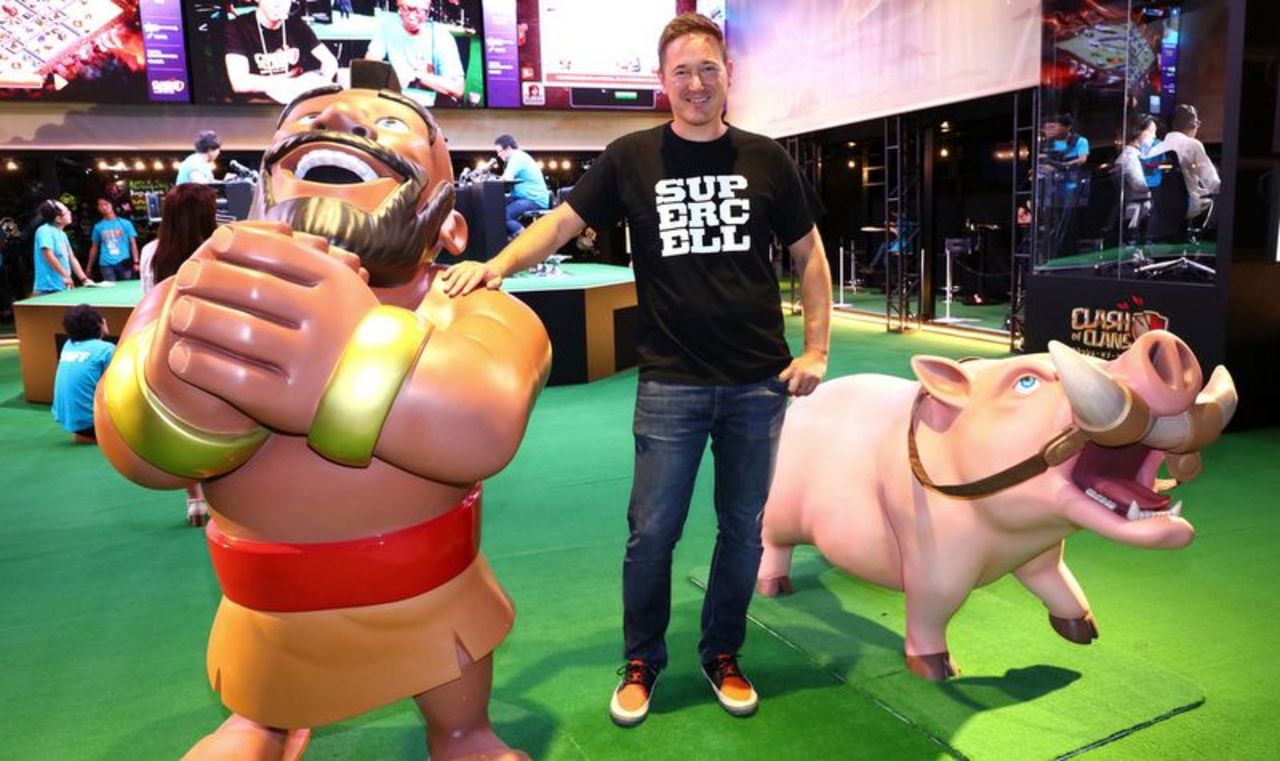 Finnish game company Supercell, which is widely known for the "Clash of Clans" game series, has done something not many other game companies can: producing multiple games such as "Hay Day" and "Boom Beach" that are played by gamers around the globe.
Since it was established in Helsinki in 2010, Supercell has expanded its business to other parts of the world—and it now has offices in San Francisco, Tokyo, Beijing, and Seoul. What's the trick to attracting gamers with different cultural backgrounds? We caught up with CEO Ikka Paananen while Supercell showcased its games at the Tokyo Game Show for the first time and talked about Supercell's localization strategy.
Why did you decide to join the Tokyo Game Show for the first time?
Personally, I have always been a very big fan of the Japanese gaming industry. I grew up playing Japanese games, especially very old classic Nintendo games like "Super Mario" and "Zelda" and those types of games. In general, I think the core group at Supercell, meaning the game developers, they are just big fans of the Japanese gaming industry.
The reason why we are here is, it's mostly just to celebrate and thank our players and show them the different aspects of "Clash of Clans", and then, of course, secondly, we also hope that we may get some new people to see the game who maybe perhaps haven't tried it before, and now it's possible to try it there at the booth.
Localization has to be close to perfect
You have different age groups playing your games across different nations. Do you have any particular programs about the localization for each nation?
Basically, when we set up the company, one of our visions was to create games that people would play for years; the other big part of our vision was that we wanted to create the first truly global games company—a company that has hit games in the big western markets, but then also in each of the big eastern markets like Japan, Korea and China.
Our approach will be such that when we bring a game to a certain market, we want to keep the soul of the game intact. The soul of the game must not change, but then, of course, depending on the market, we want the localization not to be just good but close to perfect. It must be of great, great quality.
Therefore, we've taken the approach that we've set up these very strong local teams that are extremely independent in how they operate, and it's up to these teams—for example, the theme here in Japan—it's their responsibility to make sure that the localization is perfect, and that the support that we provide for the local players is perfect.
We do local activities in the community and so forth. A lot of the marketing events, like this Tokyo Game Show being a great example, are local. It's a combination of the soul of the game is the same everywhere, but then how this is presented and how it's served to players, that must be very local. As I said, the key is to hire and build very, very strong but very independent local teams who are responsible for delivering that experience for the players in each local market.
In the interview two years ago, you said that the Japanese game market is like a great graveyard for western companies. How have you seen changes in the marketplace in Japan?
From the western game companies' point of view, it's been very difficult to compete in the Japanese market. I think we just have an enormous amount of respect for the local market. There are so many talented game developers here. Also not only that, but the quality bar that the players here have must be amongst the highest in the world. The Japanese players, they demand such high quality.
At the same time, we are happy about how it has started for us here. We are very proud that we are one of the very few western game companies that has been here in the local market. We have this very long-term vision and plan involving Japan. We fully realize that it's going to take a lot of time for us to be successful here, and of course we have to be lucky as well.
Working with SoftBank's Son
Since SoftBank invested in your company in 2013, have you had any partnership with the companies in the SoftBank group?
I think we operate very independently, but of course we stay very closely in touch with people at SoftBank. We ask for their advice. They're very grateful for this amazing partnership. No, there's no other formal alliances or partnerships.
Do you stay in touch with SoftBank CEO Masayoshi Son closely?
Yes. We do stay in touch quite closely. We talk over the phone on a monthly, sometimes even weekly, basis, and he's very quick at answering emails, and we email at any time of the day or night, which I respect a lot. Whenever we need help, he's always available, and he's been such an amazing partner to work with that we are just very lucky and thankful to have somebody like him as our chairman and as a major shareholder.
What kind of talks do you have with him?
We brainstorm about different strategies on a high level. He always has very good advice because of his extensive experience. He always reminds us about the long term. I never met anybody in my life who could think as "long term" as he does. He's such a great person to work with from that perspective. In general, our conversations relate to high-level strategies, sometimes like with global expansion and those kinds of things.
What do you think about Nintendo's decision to develop mobile games?
I'm happy because I think it adds credibility to the mobile platform as a games platform because everybody knows that Nintendo was very wary for a very long time of participating, and now that they decided to make a big step, it's of course great for the platform. You should all remember that this is not a zero-sum game. It's not that there's like a rising tide that lifts all the boats. I very much would like to believe in that in this case.