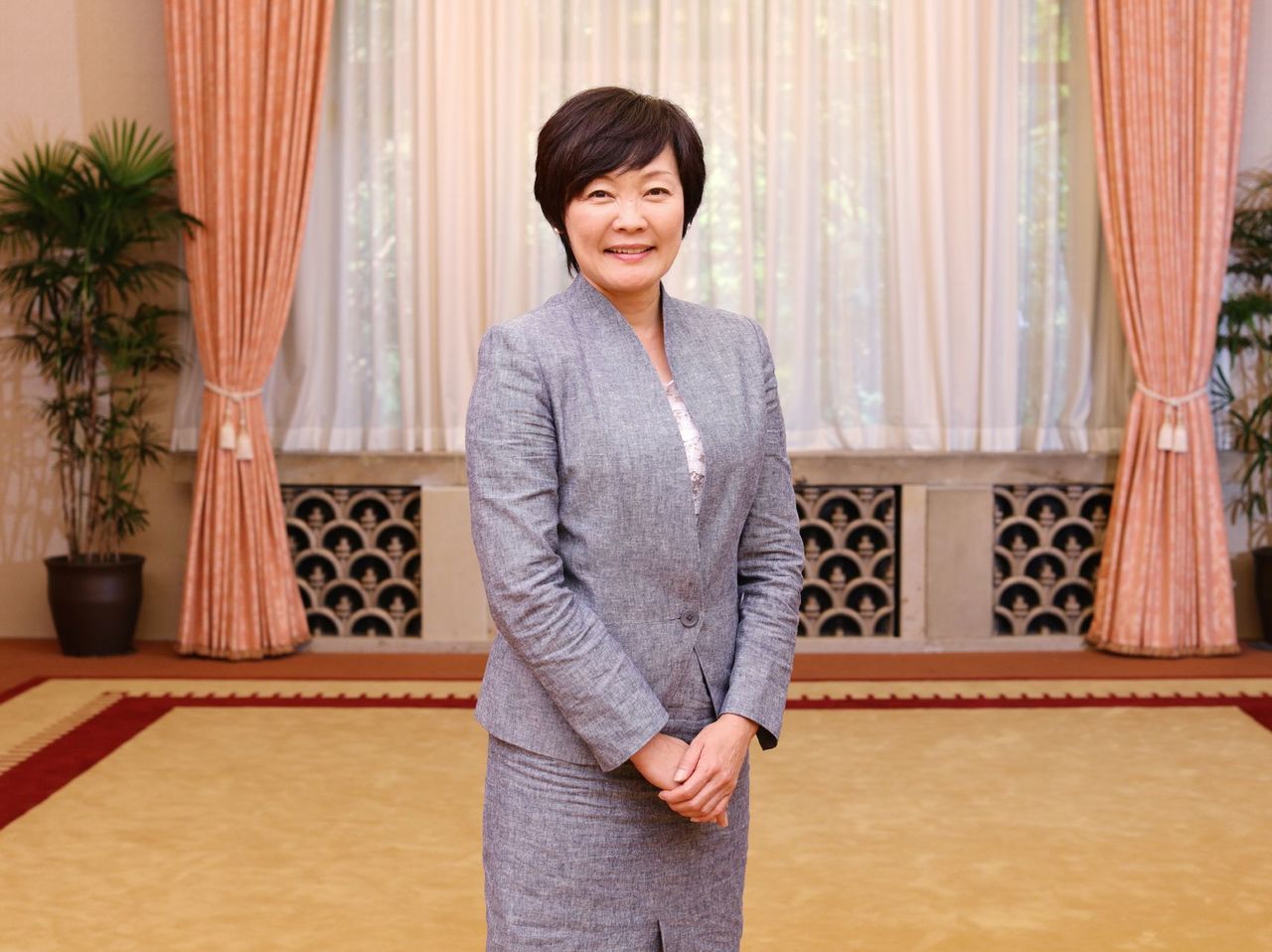 This is the first article of a three-part series on Japan's First Lady Akie Abe and her life with her husband, Prime Minister Shinzo Abe.
Yoshiyuki Inoue, one of Prime Minister Shinzo Abe's aides during his first cabinet and a current member of the House of Councillors and the Assembly to Energize Japan (AEJ) Party, offered the following remark when asked to briefly comment on First Lady Akie Abe: "She is a truly bold and daring individual."
An article in the September 10 issue of the weekly gossip magazine Josei Sebun noted as follows: "As Prime Minister Shinzo Abe staved off harsh criticism, his 53-year-old wife, Akie, shared drinks late into the night with 53-year-old Tomoyasu Hotei. Growing inebriated and snuggling up close, the two chatted until 2:00 a.m., a dangerous situation that caused nearby patrons to avert their eyes in feigned ignorance." Hotei is a singer and celebrated rock musician, and is married to the singer and actress Miki Imai.
Akie opened an izakaya drinking establishment in the Uchi-Kanda District of Tokyo in August 2012—just before the prime minister's return to the Liberal Democratic Party of Japan (LDP)—and began working as its proprietor. Her uninhibited, wild lifestyle has become the center of much public attention in Japan. Many readers of the Josei Sebun article saw an aberrant and defenseless woman in a dangerous situation rather than a bold first lady.
That's not to say that she hasn't fulfilled her duties as a politician's wife. "Mrs. Abe visited electoral districts that the prime minister was not able to visit in person in the days leading up to the December 2014 election, riding around in the designated campaign car on a daily basis to promote her husband throughout the four Yamaguchi districts," says Kenji Ayukawa, who helps Abe's election campaign in Yamaguchi.
On July 26, 2015, Yamaguchi Prefectural University's Planning and Design Department held the collaborative Agri-art Festival, a farmers' workwear event, in Nagato City, Yamaguchi. Akie took part, making a presentation in monpe, a traditional type of women's work pants.
During the event, her husband, Shinzo, made a surprise appearance on stage. "You may think I came today because my wife called me here," he said, smiling at the audience, "but I actually came because I love my ancestral hometown." Prime Minister Abe's unexpected appearance is representative of the spirit to serve the people in the heart of a prime minister who highly values his wife.
Akie's personal views on her husband
On August 1 of this year, Akie headed to Inabe City, Mie, where she gave a speech during a celebratory event marking the first anniversary of the radio station FM Inabe. During this speech, she touched on the Abe Cabinet's June announcement of the G8 summit, which is scheduled to be held in Shima City, Mie in 2016.
Beginning in 1998, Akie worked for several years as a radio DJ on FM Shimonoseki's program, "Akky and Yosuke's Tokyo Lounge," alongside Yosuke Ito, a member of the Japanese vocal group Tokyo Purin.
"During her talk on FM Inabe, Mrs. Abe explained that after her husband had gone to sleep at night, she would whisper repeatedly in his ear, 'Hold the summit in Mie.' This anecdote drew an enormous round of applause from the audience, says President Yoichi Tominaga of Community FM Shimonoseki, who helped make Akie's speech on FM Inabe possible.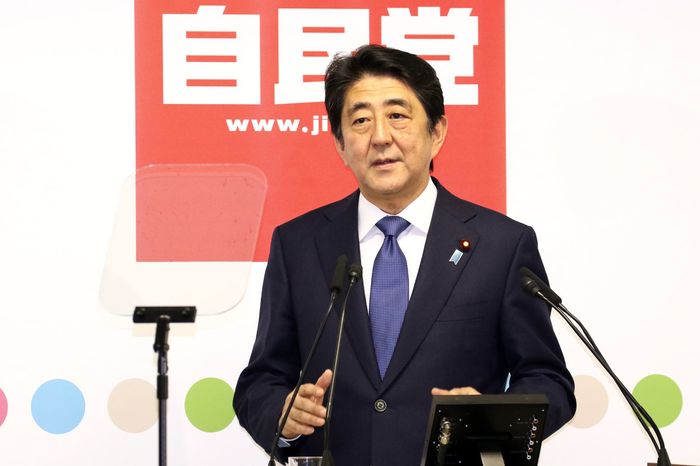 One might wonder how Akie personally views her husband. When I threw the question to her she answered: "He can be single-minded at times, but he also has the strength to adapt to and handle any situation. There are two sides to his personality: a worry-prone, cautious side and an extremely bold and fearless side."
As in many other countries, the Japanese prime minister's wife is often referred to as the "first lady." Among the numerous first ladies in the country's history, Akie Abe easily stands out as the least conventional in terms of her words and actions, her way of living, and even her relationship with her husband, the prime minister.
The phrase "kateinai yato" (at-home opposition party) was first used to describe Nobuko Kan, the wife of former Prime Minister Naoto Kan, due to her plainspoken manner and frequent criticism of Prime Minister Kan at home. By contrast, Akie Abe represents a different breed of "at-home opposition" with her objections to and questioning of the policies and direction of Prime Minister Abe and his cabinet.
During a presentation at the Hokkaido Shimbun Press Tokyo Round Table Conference on November 13, 2013, Akie expressed her opposition to the Japanese export of nuclear power plants, the consumption tax hike (from 5% to 8%) that went into effect in April 2014, and other such government measures. She has also expressed opposition to issues such as the restarting of nuclear power plants in Japan, the Trans-Pacific Partnership (TPP) agreement, and the Okinawa military base construction project off the coast of Henoko.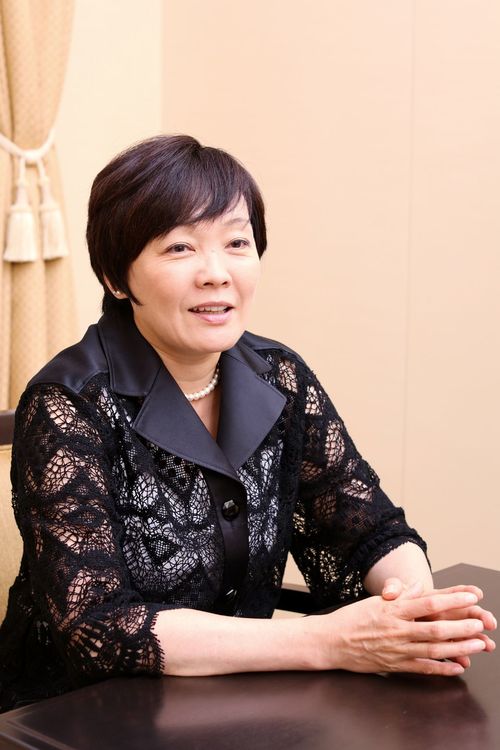 Akie has defended her methods and approaches, stating, "I have no intention of interfering with my husband's work. I just want to let supporters of the current administration know that opposing ways of thinking do exist and to also let its opponents know what the current administration is all about. My aim is to build a household that serves as a model for mutual compromise."
Interestingly, in a November 22, 2013 post on his personal Facebook page, the prime minister expressed the view that "domestic happiness is rooted in surrendering to one's wife—this is the secret to happiness at home."
A girl raised in an affluent family
Akie was born on June 10, 1962 to Akio Matsuzaki, who would later become the president of Morinaga, a major confectionaries manufacturers in Japan. The company was founded by her great-grandfathers on both the paternal and maternal sides of her family. Moreover, her maternal grandfather and father both served as the president of the company.
Akie attended the Sacred Heart School, a Christian school in Tokyo, where she advanced from elementary school to junior high school, high school, and the women-only vocational school. Her mother was a Christian and her father a Soto Zen Buddhist. However, Akie says she was never baptized.
"I really hated studying," she recalls in a carefree tone, "and during high school, I just played around all the time. My teachers told me that 'If you continue down this path, you'll never get into a university,' to which I responded with something like, 'That's perfectly fine with me.'"
After graduating, Akie found employment at Dentsu, a major advertising firm. At the age of 22, she was introduced to her future husband, Shinzo, by a newspaper journalist and Dentsu employee.
After dating for two and a half years, the couple married in June 1987—when Akie was 25 and Shinzo (born in September 1954) was 32. Before the marriage, Shinzo had already quit his job at Kobe Steel and begun working as a secretary for his father, Shintaro Abe (the former foreign minister). Akie understood from the beginning that her husband had his mind set on becoming a politician.
To be continued