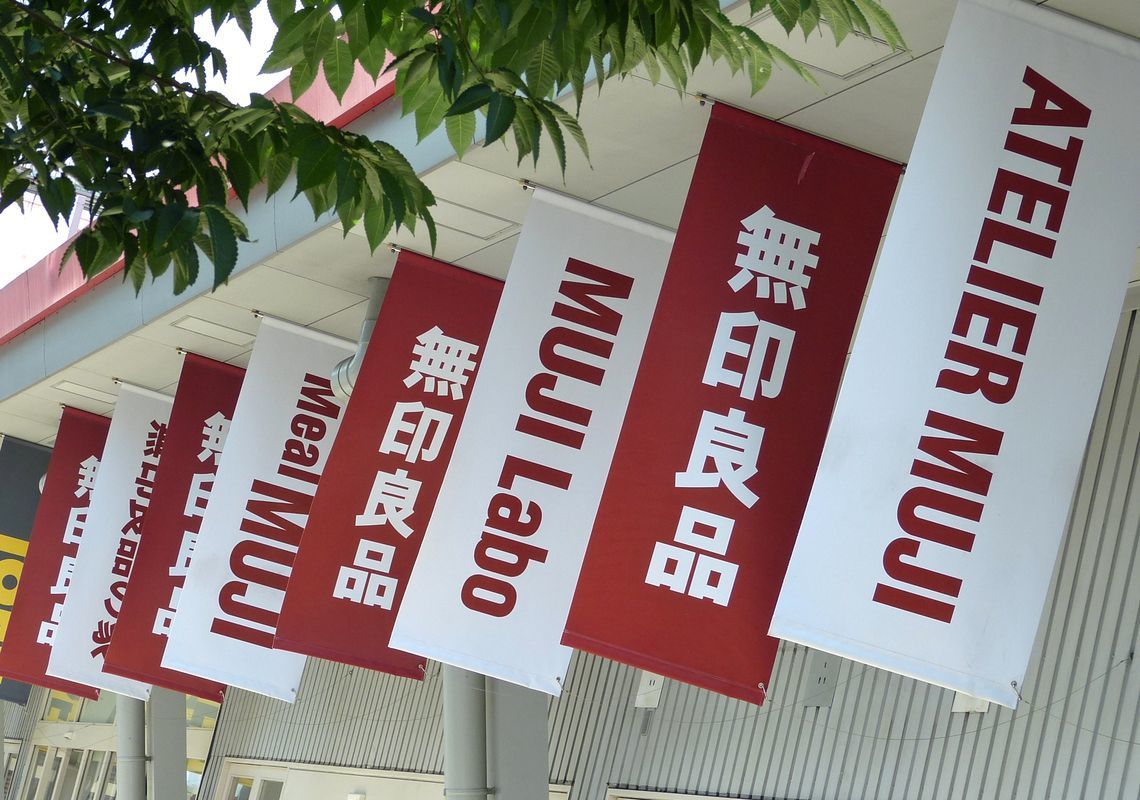 There seems to be no end in sight for the growth of Ryohin Keikaku, the Japanese company more commonly known by the name MUJI. As of February 2015, MUJI reported a new record for profits following 12 consecutive periods of revenue growth and 4 of profit growth. They proceed with upward revisions to earnings projections without waiting to see the current term's interim results.
When first-quarter (March-May 2015) results were announced on July 8, both sales and operating profit displayed two-digit growth. And because East Asia region operations have been going better than expected, earnings estimates for the year were raised to 296 billion yen for sales and 32 billion yen for operating profit. MUJI's target for overseas sales as set out in the medium-term management plan was achieved a year early, and sales are predicted to reach the 100 billion yen mark during the current interim period.
Existing Chinese Store Sales Up
China, South Korea and other countries in the East Asia region have been making increasingly large contributions toward overall company earnings, with an approximate regional sales increase of 70% (19.3 billion yen) and nearly threefold rise (3.8 billion yen) in operating profit.
Excellent performance in China has prompted MUJI to increase new-store efforts, resulting in the creation of 27 additional locations in the country compared with the previous fiscal year. Sales at existing stores exhibited a 38.5% rise during the period from January to March of this year, followed by a healthy trend in the twenties for the period from April to July.
Against the backdrop of a plunging Chinese stock market, MUJI President and Representative Director Satoru Matsuzaki reassured everyone at the July 8 financial results briefing that "this will have no significant effect on our business activities, and I am not worried about any sort of sharp decline in the future." He indicated that the company plans to adopt a new policy of dropping prices by an average of 20% with a central focus on their bestselling products in pursuit of further expansion of sales.
Furthermore, binge shopping by Chinese buyers has begun to prove profitable for domestic business. In Japan, customers have on average been spending a staggering 18,000 yen per person following the start of duty-free sales at 39 domestic stores in July, with popular purchases including health and beauty products, aroma diffusers and water-repellent sneakers, among others. It has apparently become a widespread custom among such shoppers to, after making their purchases, buy the largest carry-on bag available and stuff their new products inside to take back home.
In addition to inbound-demand growth, domestic stores have shown a robust 3% increase (52.8 billion yen) in sales and 8% rise (5.7 billion yen) in operating profit compared with the previous interim period. Despite a lower gross-margin ratio due to the weak yen, relatively high-price-range products such as furniture and clothing have been selling well, leading to increasing per-person spending amounts.
In their largest such project to date, MUJI furnished the new Terminal 3 building at Narita International Airport, which was opened in April. This project included the provision of about 400 sofa-style benches, and solid-oak tables and chairs for the food court. The company's excellent performance in this corporate-client project has prompted local governments and other such organizations to contact MUJI about the possibility of working together, giving the latter a good overall picture of the level of brand value--including pricing--they are able to maintain.
Continuing Losses in Europe
In contrast, the company is experiencing difficulties in other parts of the world: a 180 million yen operating profit loss was recorded during the first quarter in European operations.
The reason for such poor performance? According to Matsuzaki's explanation at the briefing, "European stores offer less product variety than our Japanese locations."
He added that "we want to pursue large-scale renovations and expansions at stores in the UK, France, Italy and Germany while enhancing product variety," indicating that the company is rushing to bolster performance in these countries. The closure and restructuring of unprofitable shops, which MUJI hopes to achieve by February 2017, is expected to take up time and incur further financial loss.
In addition to establishing new locations with a central focus on China during the current interim period, MUJI plans to open a new flagship store on Manhattan's Fifth Avenue in the fall with a massive sales floor measuring more than 1,000 square meters (10,764 square feet) in size. Moreover, starting next year they plan to become the first major Japanese retailer to launch operations in India, and concluded an agreement in June with a major Indian retailer to set up a joint venture.
MUJI has, like UNIQLO, become a major retailer whose sustained rapid growth centers on their overseas business endeavors. The company has adopted a two-pronged approach: complete a 200-store network by fiscal 2016 in China--the backbone of these pursuits--while developing new business in India, Central and South America, and other parts of the world. In this way, MUJI aims to become a greater global presence.