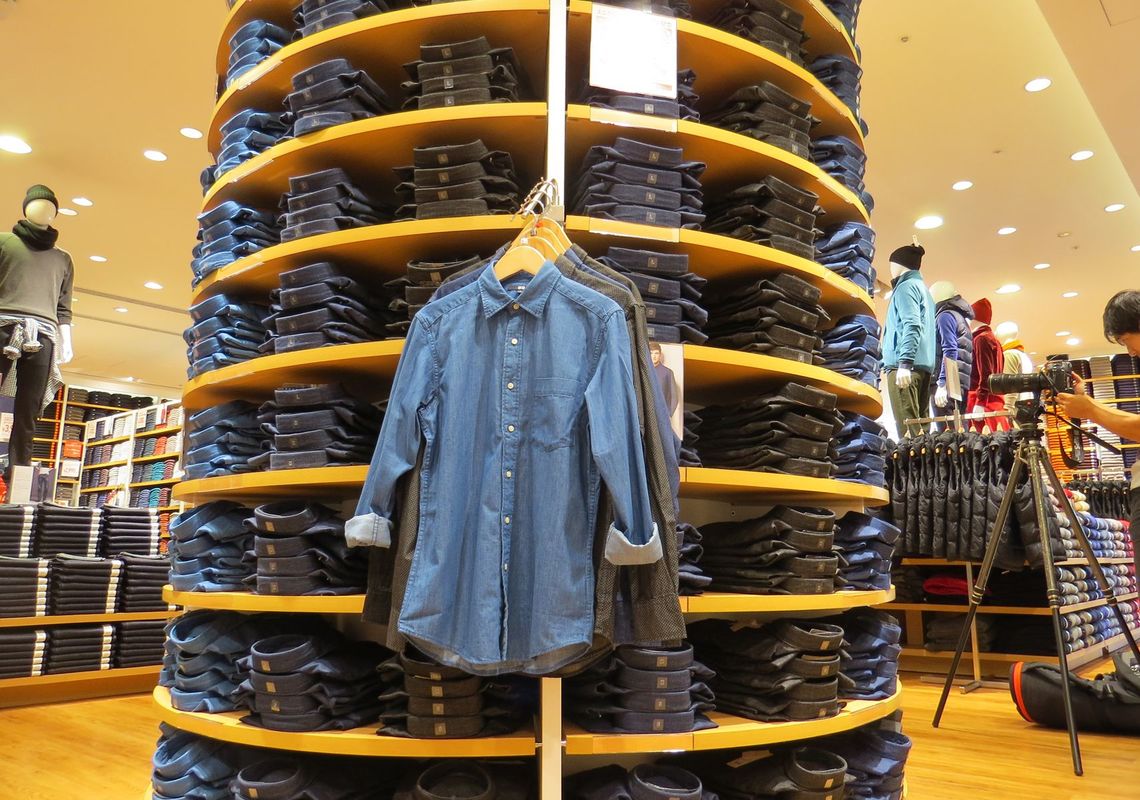 With the casual apparel business in a slump, Uniqlo is the sole victor.
Fast Retailing, developer of Uniqlo, has revised this fiscal term's earnings estimates upward significantly. It now expects sales of the fiscal term 2015 ending in August 31, to rise 19% over the last year to 1.65 trillion yen, and operating profit to rise 53% to 200 billion yen, both records highs.
At a press conference on the same day, President and Chairman Tadashi Yanai said, "We take pride in the fact that people chose Uniqlo as a store and a brand during a time when the trend is toward economizing."
Growing fast in Asia
A major factor is that Uniqlo's overseas business, with its rapid expansion of new stores, has maintained high growth centered in Asia. Sales at existing stores in Taiwan and South Korea in particular have displayed substantial growth in the double digits, and sales of winter clothes were strong in China as well.
The number of overseas stores has been growing on a steady upward trajectory, mainly in Asia. For the year 2015, it is expected the company will open more than 200 new overseas locations.
At the same time, it has used unit price increases as a means to continue improving domestic Uniqlo operations. Sales have been strong for winter clothing such as the Heattech Extra Warm series, and unit prices are up 10% over the same term last year. The number of customers fell slightly, but sales for existing stores rose 8%. 
Struggling in Japan
Its strengths shine brightly, but it has two dead spots.
One is the steady price increases by domestic Uniqlo stores. It announced that in order to compensate for increased clothing materials sourcing costs due to the cheap yen and rising labor costs in the countries where the products are manufactured such as China, it will raise prices for roughly 20% of this year's fall and winter items. It is estimated that the average price will rise about 10% overall.  It raised prices for fall and winter items by an average of 5% in 2014 as well. 
"We have been making long-term contracts for currency exchanges, but there have been significant spot increases, leading to an unavoidable increase in cost price," says Group Senior Executive and CFO Ken Okazaki. 
Mr. Yanai displayed a firm stance on the effects of price increases.  "I do not believe it will lead to losing customers. The yen is cheap, and the products being sold in Japan are the cheapest in the world," says Mr. Yanai. He expressed his belief that they can earn the support of consumers by further improving product quality, "If the added value is not recognized, they will not sell. We want to set our sights on making higher quality products."
However, it is unclear whether consumers will accept any more price increases.  Taking a look at the number of customers at existing stores, numbers fell below the previous year in the last two quarters. Now some of the market wathers are saying, "Their scheme of compensating for declining customer numbers with price increases has reached its limit."
Opening more stores in the US
Another is their overseas business operations. In particular, reorganizing its US operations is an urgent matter. In the first half of the year, both sales and the gross margin ratio failed to meet projections, and the size of its deficit swelled, delaying a turn to profit. "The US is the world's number one market and our top priority, and the whole company will support its operations," says Mr. Yanai. 

In order to revitalize, it will first continue to open new stores actively, and prioritize building the brand. The policy is to continue opening roughly 20 to 30 new stores annually, opening a flagship store in Chicago in autumn 2015, and also expanding into other cities such as Seattle.
In spring 2016, it will expand into Washington, DC, and into Canada in the autumn of the same year.  Ultimately, it aims to have sales of 100 billion yen and an operating profit of 10 billion yen in three years.
Overseas global brands aside from Uniqlo are also struggling. The high-class jeans brand J Brand recorded large losses last fiscal term, and it failed to meet projections for this fiscal term as well, plunging it further into the red. Others such as French clothing brand Comptoir des Cotonniers have also been trending bearish.
So what does Mr. Yanai think of these dead spots himself? "Whatever problems may arise, we will work conscientiously to resolve them, so now is the time. The worst dead spot is when that enthusiasm has run out," he says.