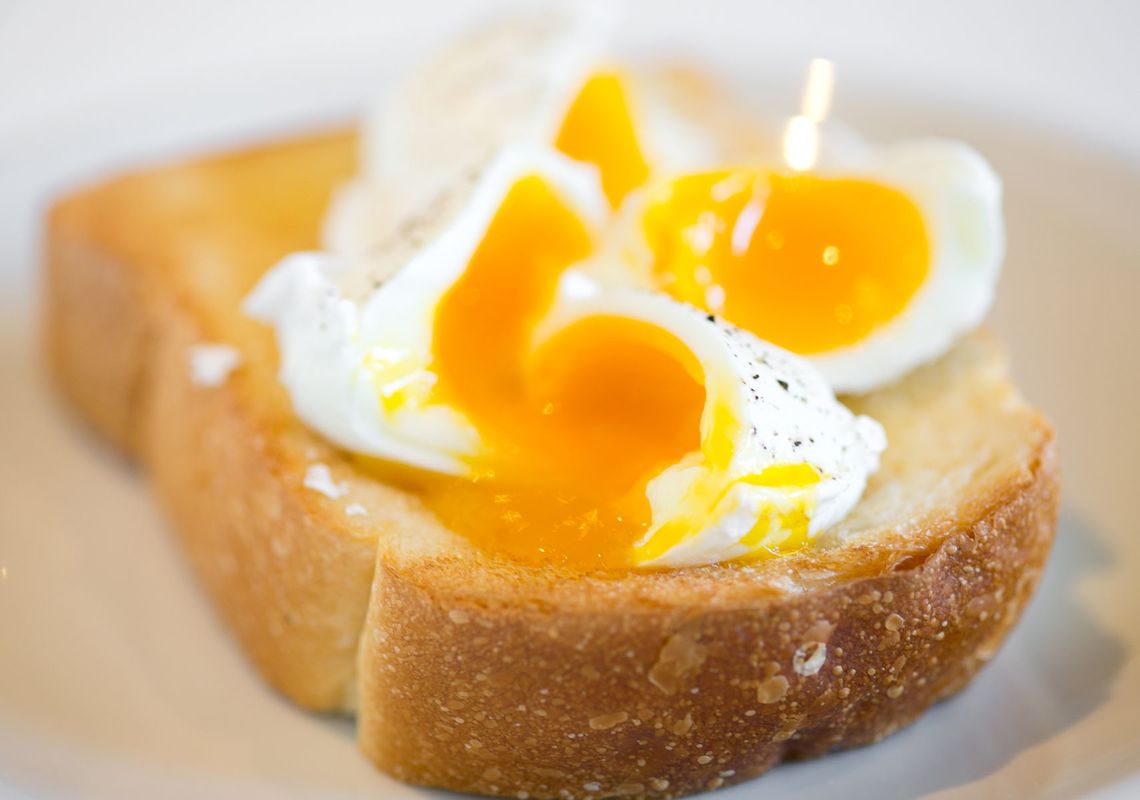 After opening their first shop in Japan, Blue Bottle Coffee Kiyosumi-shirakawa Roastery & Cafe, American coffee roaster and retailer Blue Bottle Coffee Company went on to open what became their flagship shop, Aoyama Cafe in March.   A three minute walk from Omotesando Station, it is an intimate location surrounded by a garden of swaying trees and has seating for 70 customers.
It is not only coffee that they are obsessed with.  Aoyama cafe also puts effort into their food menu and some of their products are only handled in house.  One such item is their poached egg on toast.  The bread used for the toast comes from Katane Bakery, a well-known bakery among bread lovers in Japan. 
How did Blue Bottle find Katane?
To find the "perfect slice of bread" to match their coffee, Blue Bottle's CEO, Mr. James Freeman, ordered numerous breads and did a blind taste test. "In Katane, we finally found something that resembles the bread offered in San Francisco" said Mr. Freeman.
What is so special about the Katane, which made Blue Bottle fall in love with?
Katane, which opened in 2002, is located about eight-minute walk from either of the two closest stations, Yoyogi-Uehara and Hatagaya.  It is a small shop, with a sales area of about 100sq feet--it becomes full with five to six people.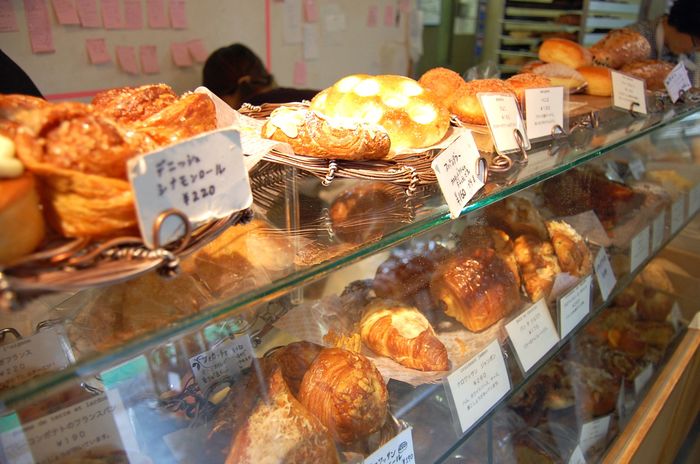 They open for business at 7 am.  In addition to selling roughly 100 varieties of breads in various lots sized from just a few items to dozens, they also offer confectioneries, jams, and granolas.
On Saturdays, there is often such a long line that owner Daisuke Katane, 40, worries that, "It's difficult for the people in the neighborhood who always buy from us."
Their sales has been growing steadily since the opening of the business.  The reason they are so popular is that their products are both appealing and reasonably priced.  250 yen for a baguette, 120 yen for a red bean bun, 160 yen for a croissant, and 400 yen for a baguette sandwich (jambon-fromage) made upon ordering to name a few. 
"We set the price so people feel like, 'if that's the price, I'll buy it.' We don't think about the cost. When we were steadily converting to using domestic ingredients, the price didn't go up either," says Mr. Katane.  Although they are conscious of mixing high profitability and low profitability products, they are persistent in prioritizing reasonable prices.
Take a midnight bus for a "bread tour"
In 2007, they established a cafe in the shop's cellar.  It is also quite popular and customers come in as soon as they open at 7:30 am.  Many people come from far away, according to Mr. Katane.  "Many groups of women making 'bakery tour' stop by at our cafe.  They take a midnight bus to Tokyo and arrive in Shinjuku in the early morning, then come to our store as their first stop," adds Mr. Katane's wife Ms. Tomoko Katane.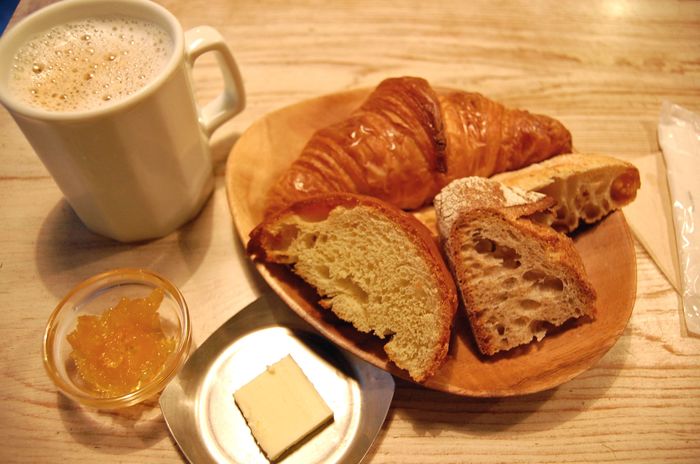 The most popular morning item is the "Parisian Breakfast," which is priced 650 yen. It is a sample of four kinds of bread with a drink, mini juice, butter, and jam.  They are also proud of the hidden popularity of their catering and lunchboxes that can be ordered to go.
In the shop, they are restrained in putting the points of obsession fully on display, but you can really see them if you examine the ingredients they use.  Excluding some that is used in a small fraction of their breads, they switched to using domestic wheat flour a few years ago.  They have increased the amount of domestic fruit used as well.  "When we change the flours we use, my tastes also will change.  My recipes are continuously changing," Mr. Katane says.
Using homemade fillings for confectionery and savory bread products made with high quality organic ingredients like raisins and nuts is their standard.  Adzuki beans for the red bean buns are cooked once every three days.  For the seasonal chestnut pies, they begin by peeling the chestnuts and boiling them with their inner skin.

"When our two children became independent and needed less care few years later, my wife said she wanted to help out more,"says Mr. Katane.  "She wants to make more things on our own?like smoked salmon which we buy from others now."
Why Blue Bottle has chosen Katane?
Blue Bottle approached them at the end of 2014. "They chose our white bread and baguettes. They said our bread was simple and had a taste you couldn't get tired of, so we couldn't refuse.  I thought we'd do it," says Mr. Katane proudly.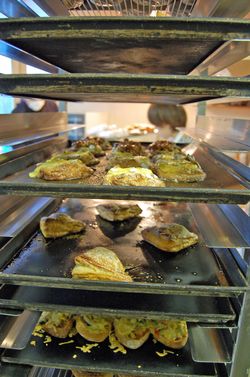 On the other hand, with the business from Blue Bottle added in, their workload has increased.  Mr. Katane now gets up just after 2 am and begins preparing the dough in the shop at 2:30 am.
"In bakeries, there are both craftsmen and managers, but I'm a craftsman,"says Mr. Kantane.  "Since I was 28, I've been independent for 12 years.  Making things properly every day might be a difficult thing to keep up for a long time.  In this line of work, many owners say they want to train their staff, but then disappear.  But, I always do the training myself.  In the end, I only want to make enough bread for locals here."

Pricing in line with the customers perspective, an attitude of continuous reform and Kaizen that is characteristic of craftsmen, and not to mention a work-life balance that involves spending one month with his family in France each summer seem to be the reasons Katane fans are growing. 
Blue Bottle's Mr. Freeman says as their goal from here on that they, "want to achieve something simple and perfectly thought out," but it is perhaps because that ideology and attitude is expressed through Katane's products, that Blue Bottle chose them.