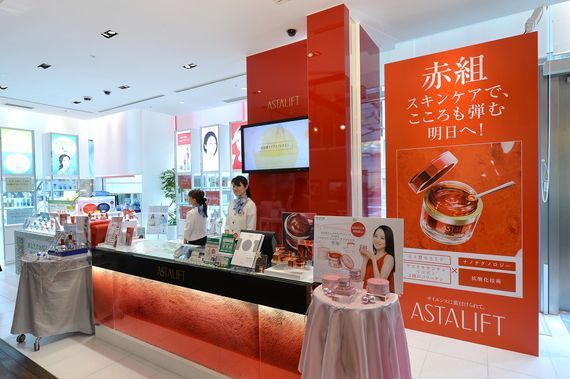 This September, Fujifilm holdings is going to enter the market for women's hair growth products.
In parallel with the three core technologies that they have developed for their flagship film products, collagen, antioxidants, and nanotechnology, Fujifilm entered the cosmetics market in 2006. In July, 2007, they released their central brand, "Astalift", a line of skincare products targeted at middle-aged women including anti-aging and whitening products.

This September, Fujifilm will enter the market with shampoo, conditioner, and scalp care products. As the head of the Risako Saito marketing group predicts in regards to the scalp care market, "the market for women's scalp care products has seen 300% growth since 2004, the most among any cosmetics category. Even in the hair care market the number of women worrying about aging has increased, and these women are as conscious about their hair as their skin."
In the market for women's hair growth, there are a number of predecessors. Fujifilm, entering the cosmetics world coming from a different industry, aim to differentiate themselves on the strength of their technological achievements.
Point is that they do not use ethanol. "It has been proven that ethanol impedes hair growth" (says Fujifilm's Medical Products and Healthcare Research General Manager Kozo Nagata). Making full use of nanotechnology, the company has developed a skin-penetrating form of glycyrrhetic acid, nano glycyrrhetic acid. Similarly, this same technology has helped to improve penetration while increasing tension and body in the affected hair.
At the moment, the product will not be sold in normal stores, but will be limited to sales through mail order through Fujifilm's healthcare laboratory and the company's showrooms. In the mid-term the company expects to begin sales through normal stores, and after three years they aim to achieve annual revenue of ¥1 billion(about $10 million)in the healthcare field.
The scope of Fujifilm's sales in the cosmetics industry has not been made public now, but by 2010, sales from their flagship Astalift brand had exceeded ¥10 billion. From cosmetics to liquid crystal film to the photofilm that has been the company's mainstay for all these years, Fujifilm has had success in a variety of fields, and the company has ventured out into a number of industries. Perhaps by using their technological resources the products they develop will be able to enter into the new field of hair growth. Fujifilm's competitors in the field will be keeping a close watch on their actions.