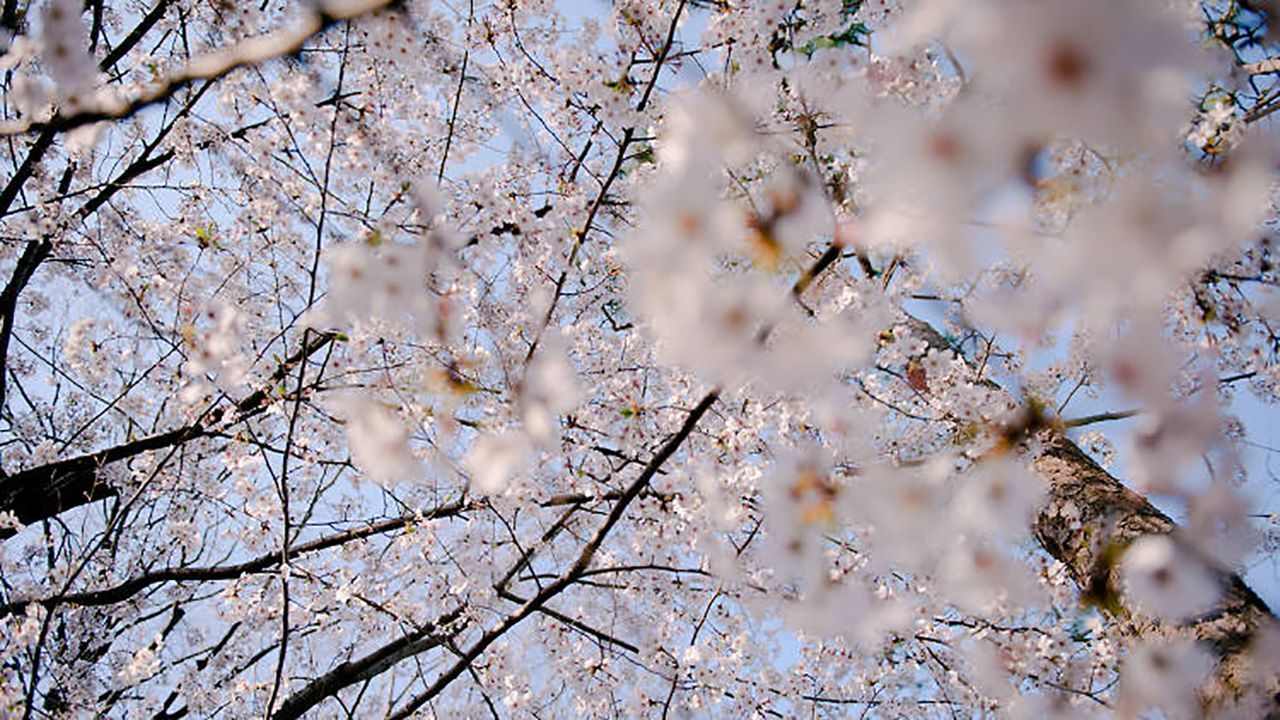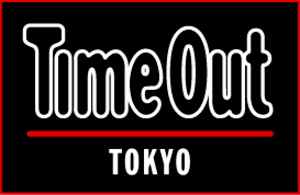 The cold of winter has lifted and our great city is slowly switching gears into spring. In other words, the 2018 Tokyo sakura season is just around the corner – the Meteorological Agency's latest cherry blossom forecast sets the opening date for March 22, while 'peak bloom' is expected around March 28-29. Although these divinations tend to change frequently the closer we get to the end of this month, there's still no harm in planning ahead for your hanami. Here's our pick of sakura-related events taking place in and around Tokyo, from lit-up gardens to full-on spring festivals.
Top hanami spots
Nihonbashi Sakura Festival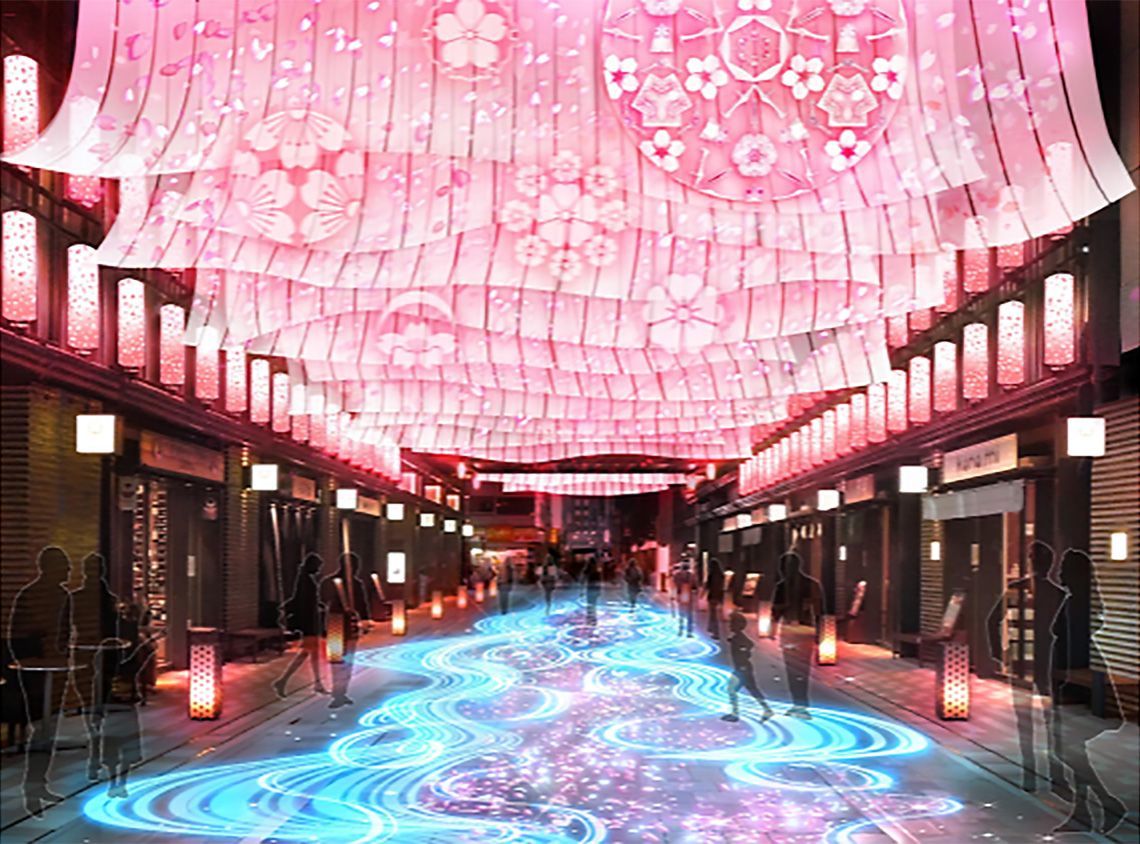 One of the more successful redevelopment experiments in Tokyo recently, the revitalised Nihonbashi area celebrates sakura season with a packed programme of events. Although actual cherry trees here are scarce and limited to the newly re-planted ones along Edo Sakura-dori, hanami-themed light-ups will be arranged to make up for the deficit: every day after sunset, major landmarks like the Mitsui Building and Coredo Muromachi will be illuminated in pink, while the recently renovated street leading to Fukutoku Shrine will be beautified by audiovisual, digital sakura decorations dubbed the 'Sakura Tunnel'. There's also something to look forward to for gourmands: 150 local restaurants will have sakura-themed menus, and some will set up stalls in the area for you to snack while blossom-hunting.
Where: Nihonbashi
When: Friday March 16 2018 - Sunday April 15 2018
Sumida Park Sakura Festival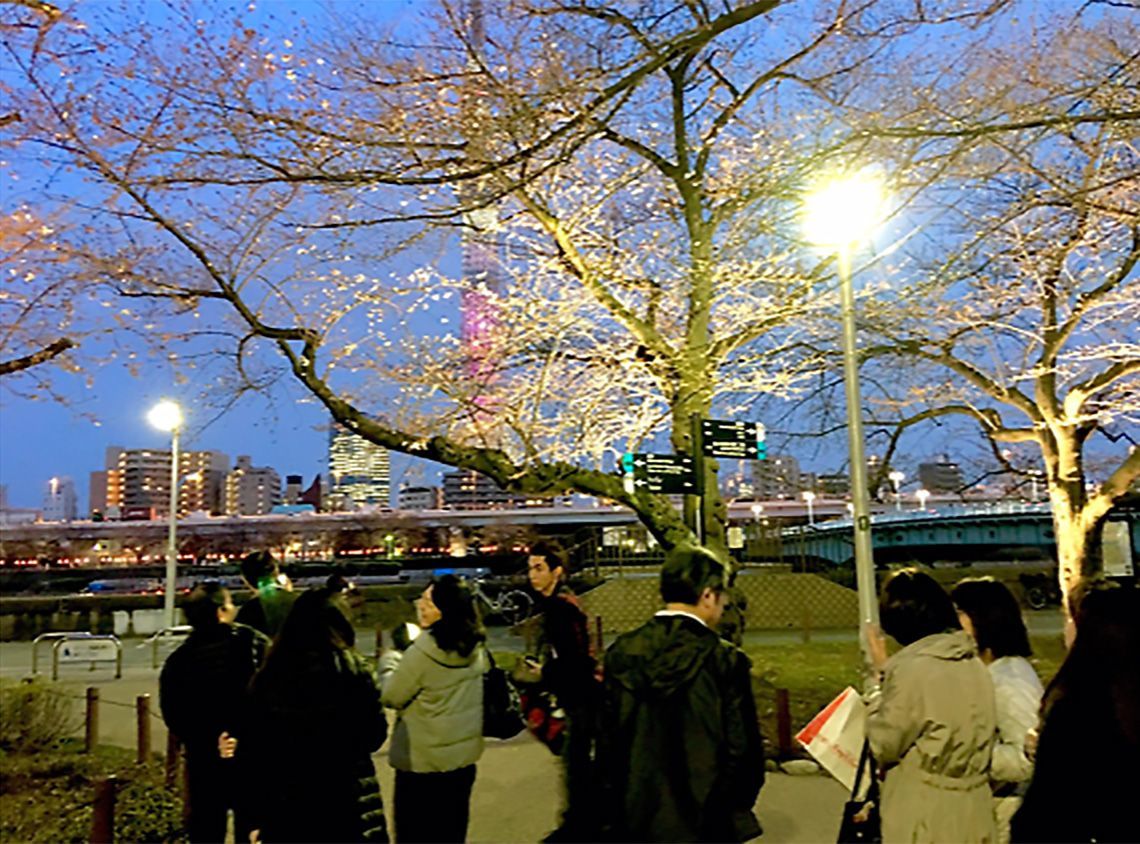 Flanking both sides of the Sumida River, Sumida Park offers a welcoming retreat after you've worn yourself out sightseeing in nearby Asakusa. Spring is the best time to visit, when the more than 600 sakura trees lining both banks burst into bloom. This festival sees the blossoms lit up after dark, while yakatabune boats will be ready to traffic hanami-goers up and down the river. And if you're looking for a sakura snack to complete your picnic, try the sakuramochi from Chomeiji or the classic sweets at Kototoi Dango.
Where: Sumida Park , Asakusa
When: Tuesday March 20 2018 - Sunday April 8 2018
Midtown Blossom 2018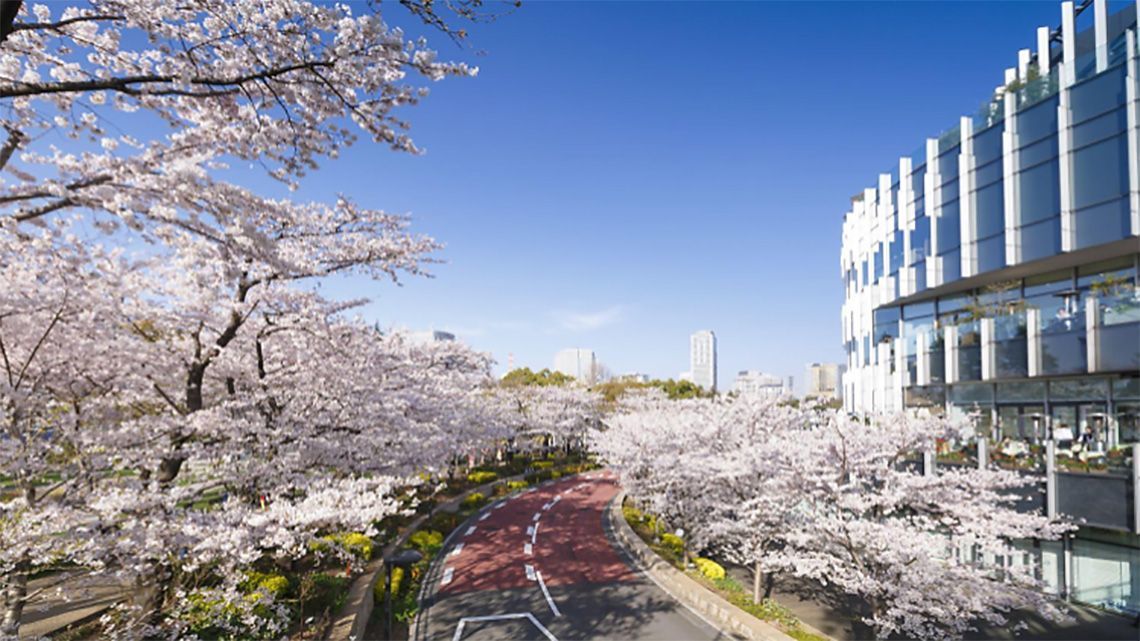 For an urban hanami experience, Tokyo Midtown is one of the best spots: its gardens feature eight different kinds of cherry trees and 150 in total, many of which will be lit up at night over the duration of this event, while the open-air lounge area is where to sit down for some rosé bubbly under the blossoms...
Where: Tokyo Midtown , Roppongi
When: Friday March 16 2018 - Sunday April 15 2018
Rikugien Cherry Blossom Lightup 2018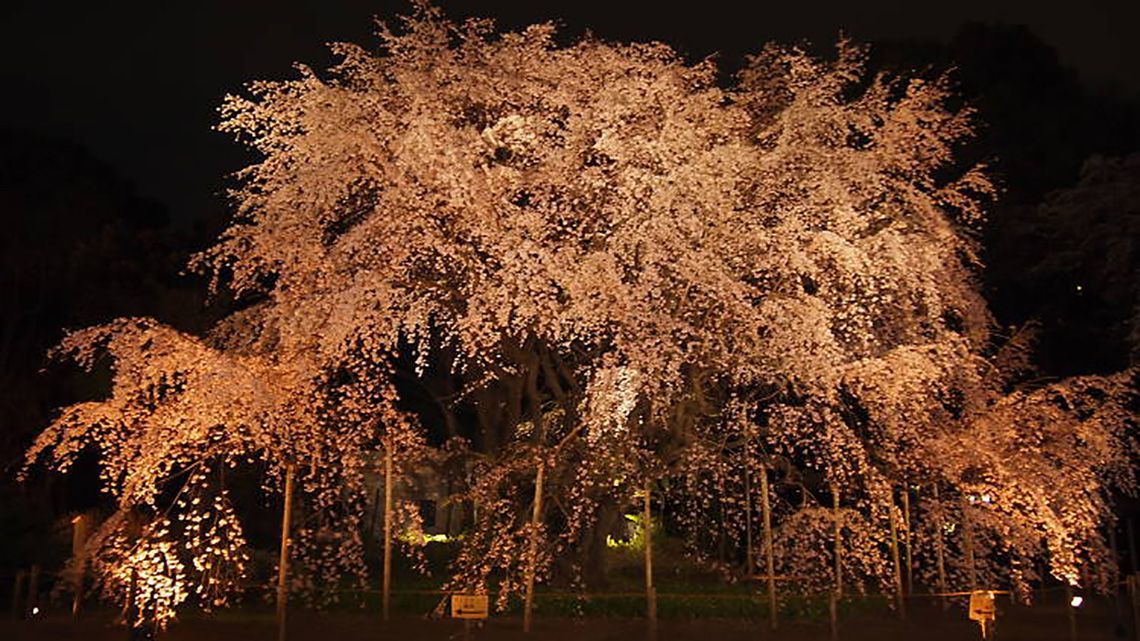 Rikugien's annual spring celebration will be back again for 2018, which means that both the park's huge cherry trees and the rest of the beautiful Japanese garden will be lit up in the evening, creating a magical atmosphere for sakura flower viewing. The park stays open until 9pm for the duration of the event, making after-work hanami parties possible even on weekdays.
Where: Rikugien , Komagome
When: Wednesday March 21 2018 - Thursday April 5 2018
Minato Mirai Sakura Festival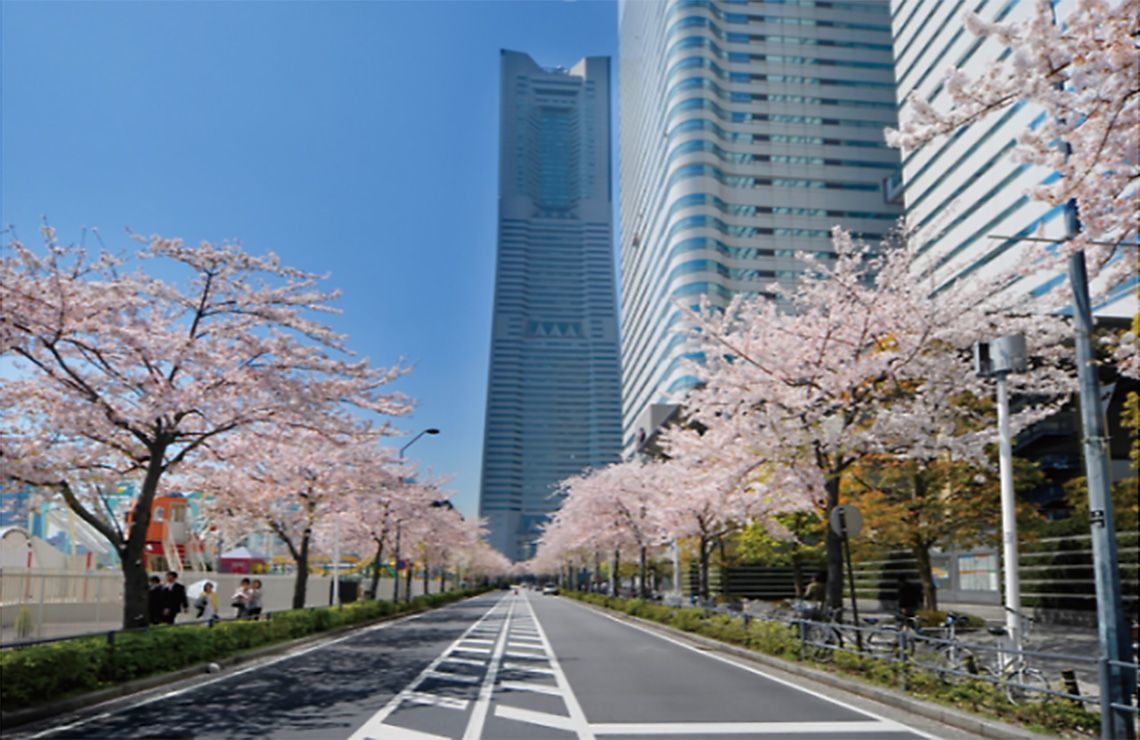 One of the top sakura-viewing spots in Yokohama, the 500m stretch of road between JR Sakuragicho Station and Pacifico Yokohama always gets packed during this annual festival, which sees a plentiful selection of food and drink stalls set up under the blooming trees. You can also look forward to an evening light-up (throughout the event period), a parade and even a tug-of-war contest (April 7 only).
Where: Landmark Tower , Minato Mirai
When: Saturday March 31 2018 - Sunday April 8 2018
Lake Sagami Sakura Festival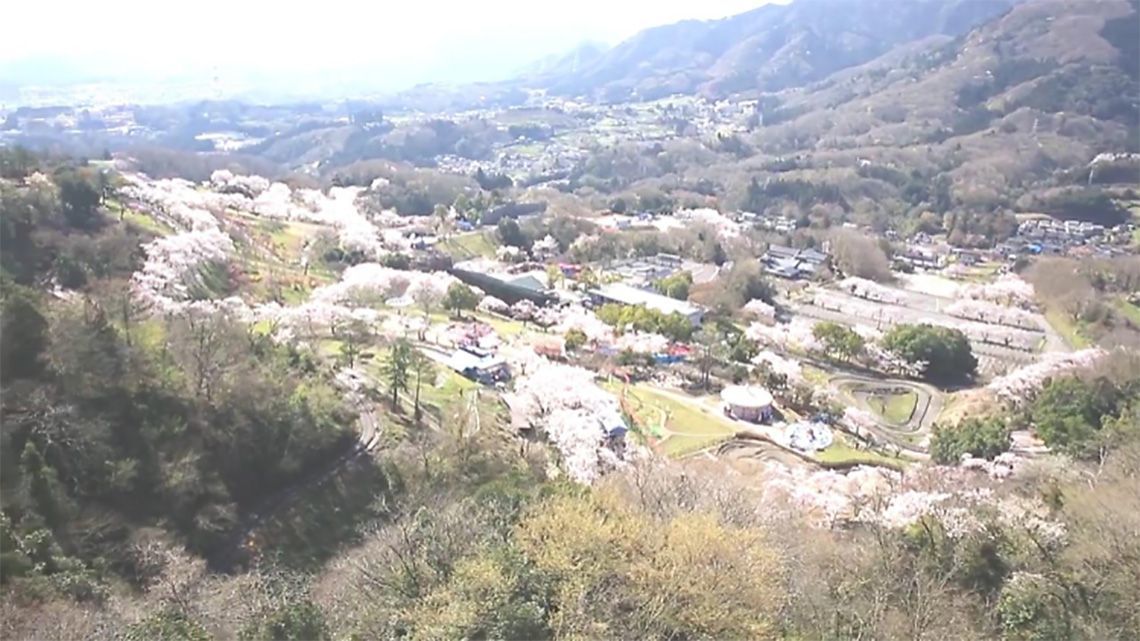 Famed for its spectacular winter illumination show, the risquely named Sagamiko Resort Pleasure Forest is also an excellent blossom-viewing spot. Accessible in an hour from central Tokyo, the expansive park is home to a whopping 2,500 sakura trees, which are lit up in the evening and make for a sight you won't find within the city limits. The highlight here is the 400m walking route, lined by a total of 500 trees on both sides and decorated 'to resemble the Milky Way'. We're curious to see what that means in practice – plenty of sparkling lights at least, that's for sure. Visitors can also use the amusement park rides (including the ferris wheel) at night, so take advantage of this opportunity to enjoy the spring scenery from a different viewpoint.
Where: Sagamiko Resort Pleasure Forest , Sagamiko
When: Wednesday March 21 2018 - Sunday April 22 2018
Fuji Shibazakura Festival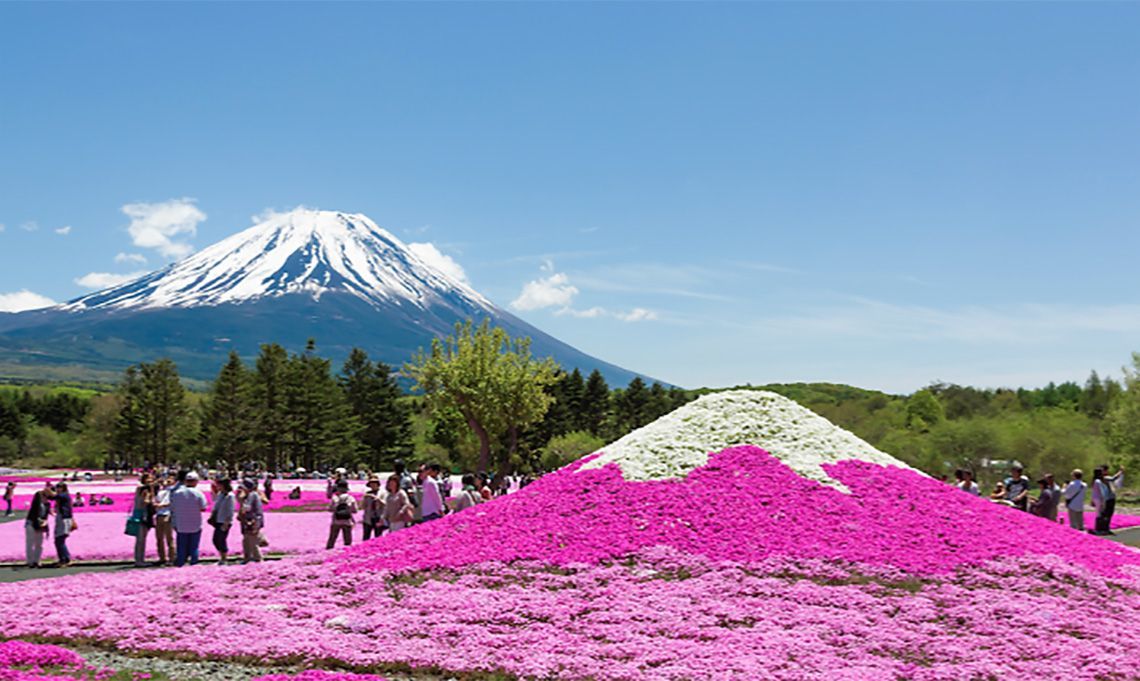 Great views of majestic Mount Fuji and seemingly endless fields of shibazakura ('pink moss') – it's no wonder that this annual spring festival out at Lake Motosu in Yamanashi attracts hordes of Tokyoites over Golden Week. In addition to strolling around the immense flowery growth, you can buy your own shibazakura pot to take home or bite into a wide range of local delicacies.
Where: Fuji Motosuko Resort
When: Saturday April 14 2018 - Sunday May 27 2018
More sakura spots
Yoyogi Park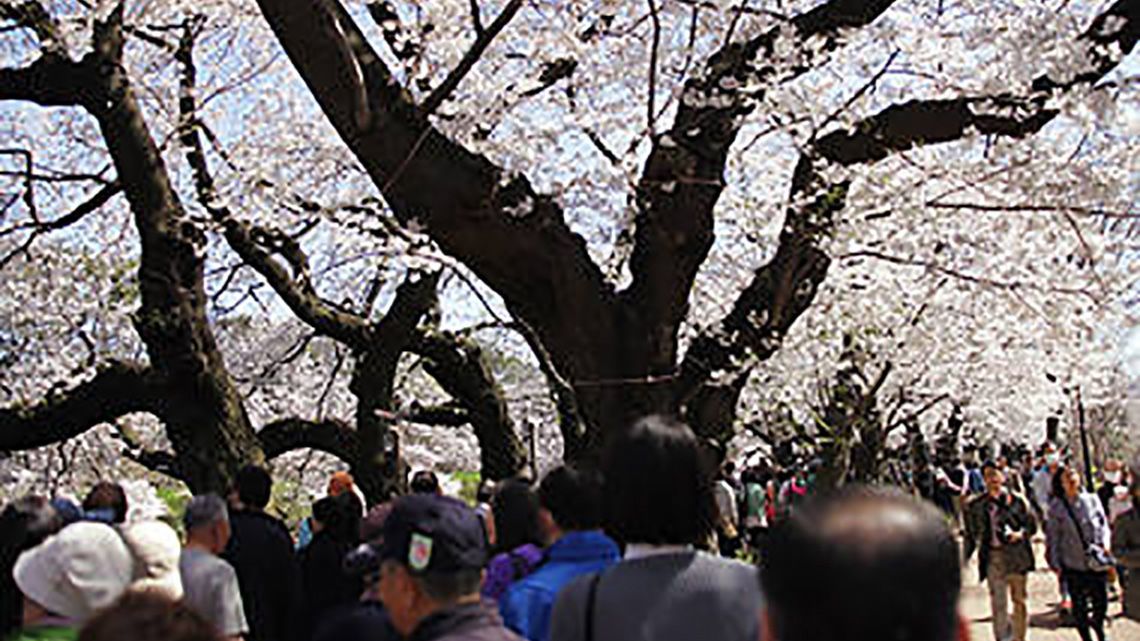 Get back to nature without straying too far from the nearest Starbucks with an outing to Yoyogi Park. This ever-popular spot in central Tokyo occupies the site of Japan's first successful powered aircraft flight, and later the athletes' village during the 1964 Olympics. The north side is a lush sprawl of trees and greenery where city slickers can take a break from the crush or let their pets roam free at the dog run. The south side has an event plaza and open-air stage that hosts many of Tokyo's larger festivals, including the annual Earth Day, Thai Festival and One Love Jamaica. The park is open 24 hours, and includes a parking lot. You'll find Meiji Shrine, NHK, Shibuya Ax and the National Gymnasium (Kokuritsu Yoyogi Kyogijo) nearby.
Where: Harajuku
Asukayama Park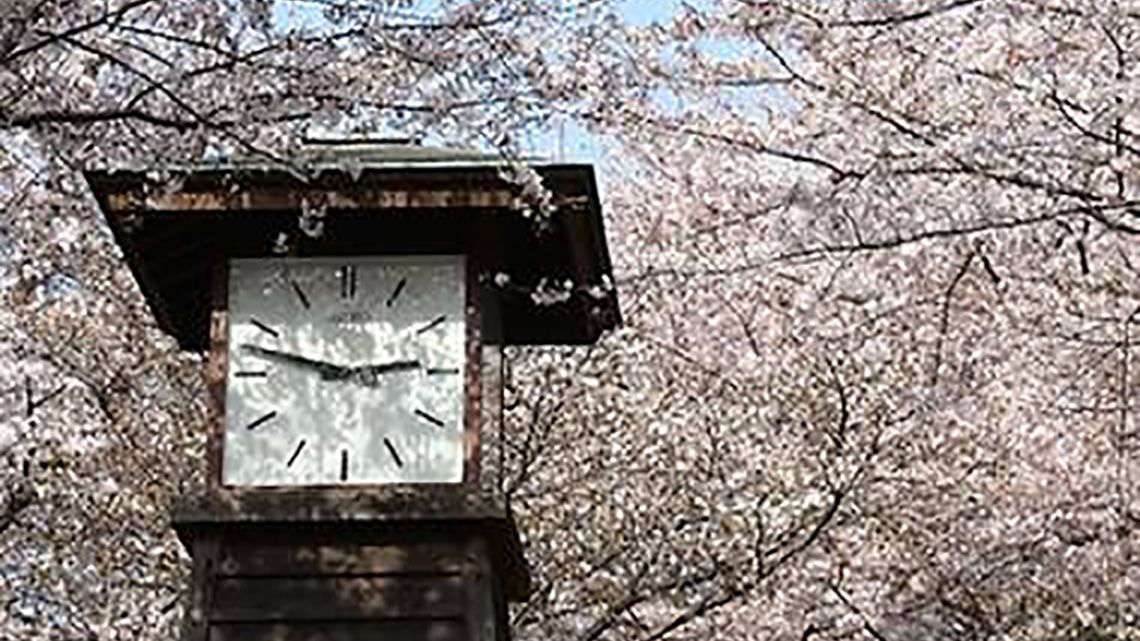 This wooded hilltop park was once the estate of Eiichi Shibusawa (1840-1931), president of Japan's first modern bank. Former US President Ulysses Grant was treated to a ju-jitsu demonstration here in 1879 while staying as Shibusawa's guest. The towering mansion is long gone, but a few outbuildings remain. The park's main attractions are the 'Asukayama Three Museums', which stand in a row at the park's eastern edge. The Paper Museum (www.papermuseum.jp) displays items related to paper art, papermaking technology and the history of paper, and sometimes holds participatory workshops. The Kita City Asukayama Museum (3916 1133) focuses on local archaeological finds, including a dugout canoe from the Jomon period, Japan's Stone Age. English signage is minimal, but the displays are largely self-explanatory. The Shibusawa Memorial Museum (3910 0005, www.shibusawa.or.jp) praises the achievements of Eiichi Shibusawa. Most of the exhibits are old documents, some in English – including a signed letter from Thomas Edison.
Where: Oji
Arisugawanomiya Memorial Park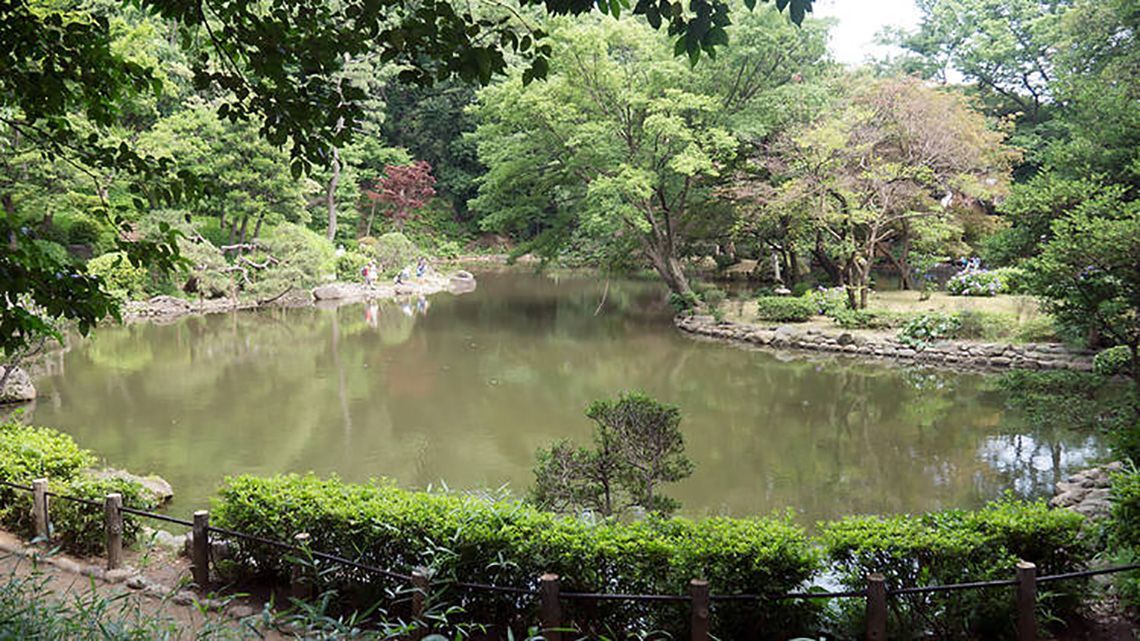 An undulating 6.7 hectare park, Arisugawanomiya Memorial Park has been landscaped to take advantage of nature. During the Edo period, the grounds were originally the suburban residence for the Daimyo of the Morioka Nanbu clan. After becoming part of the imperial house of Arisugawanomiya in 1896, the area later became part of the imperial house of Takamatsunomiya. In 1934, Prince Takamatsu gave the land to the people of Tokyo, and it is now maintained as a public park. Inside the park, on its elevated eastern side, is the Tokyo Metropolitan Central Library.
Where: Hiroo
Shinjuku Gyoen National Garden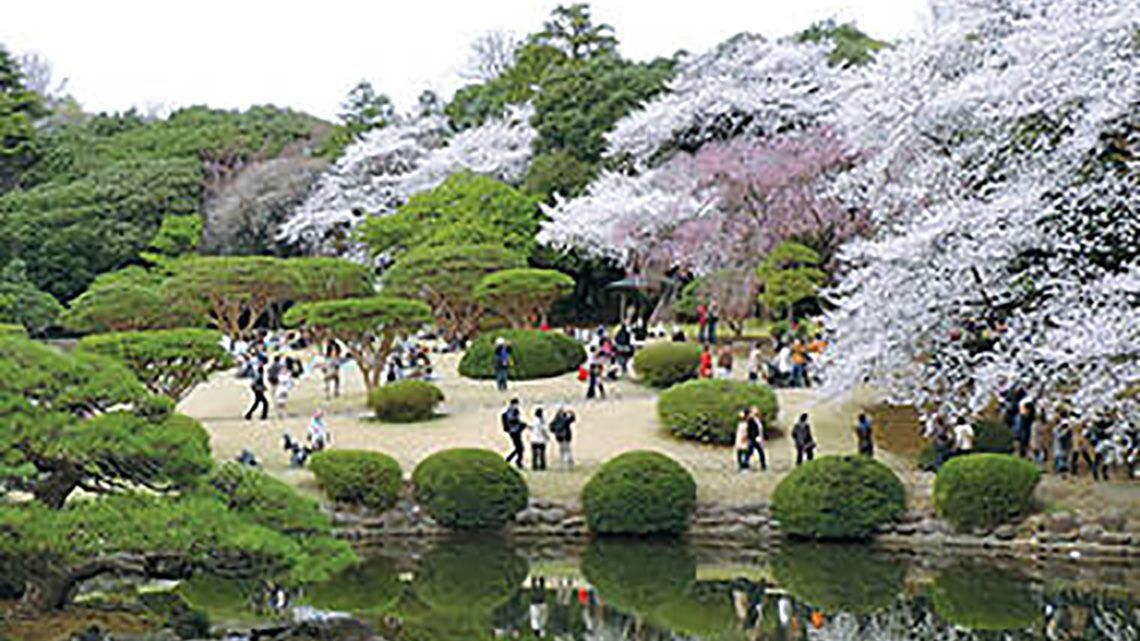 You might not expect to find tranquility in bustling Shinjuku, but stump up the meagre ¥200 entrance fee and step into the entirely different world of Shinjuku Gyoen, possibly Tokyo's most beautiful green space. Shinjuku Gyoen is split into a French formal garden, an English landscape garden and a Japanese garden, complete with teahouse for thirsty explorers. Come sakura season, the whole place erupts into so much riotous pink, you'd be forgiven for thinking a Pride march had rolled through town. Don't worry if you've arrived a little late, though – there's still plenty to see, including brightly coloured rose gardens, carefully clipped topiary and expansive green spaces to settle in with a picnic. The Japanese garden is watched from above by the formidable NTT building – an ideal juxtaposition for amateur photographers looking for that perfect Japan old versus new pic. Using toys, sports equipment and the like in the garden is prohibited, as is bringing alcohol into the garden and drinking it there.
Where: Shinjuku-Sanchome
Meguro River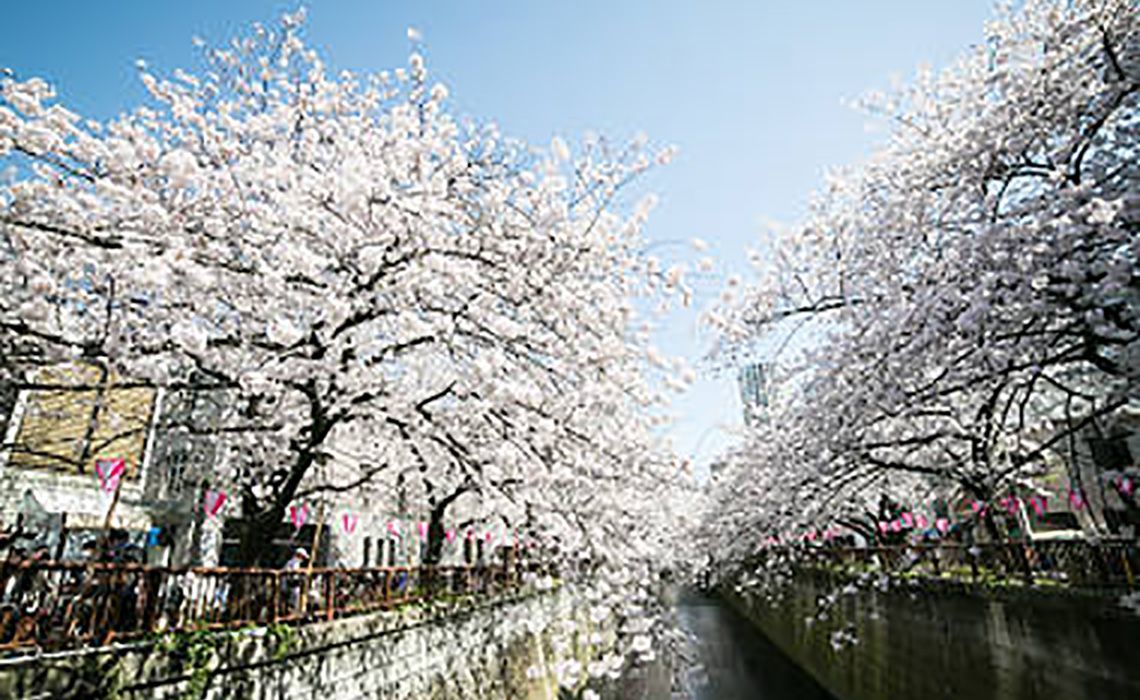 Another long-running favourite, the banks of the Meguro River always get packed with hanami-goers around the end of March. If possible, avoid crowds by moving away from the area around Nakameguro Station...
Inokashira Park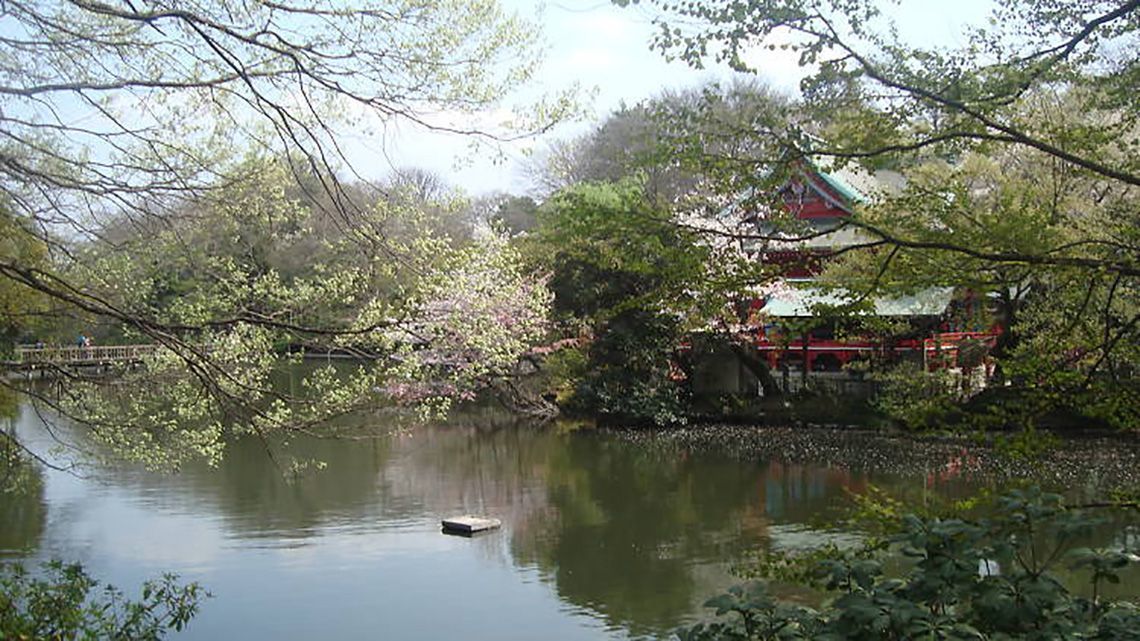 Located just 15 minutes from the centre of Tokyo, this Kichijoji park has more than enough to occupy you for an afternoon, including a zoo, a pond with amusingly shaped rental boats, and playground facilities to keep the little ones happy. The south side is home to the Studio Ghibli museum – a must-visit for anime fans – and at weekends the park comes alive with street traders, musicians and artists. In late March and early April it fills with people enjoying hanami (cherry-blossom viewing), and it's worth making the trip to join them.
Where: Kichijoji
Noh hanami: Yozakura Noh at Yasukuni Shrine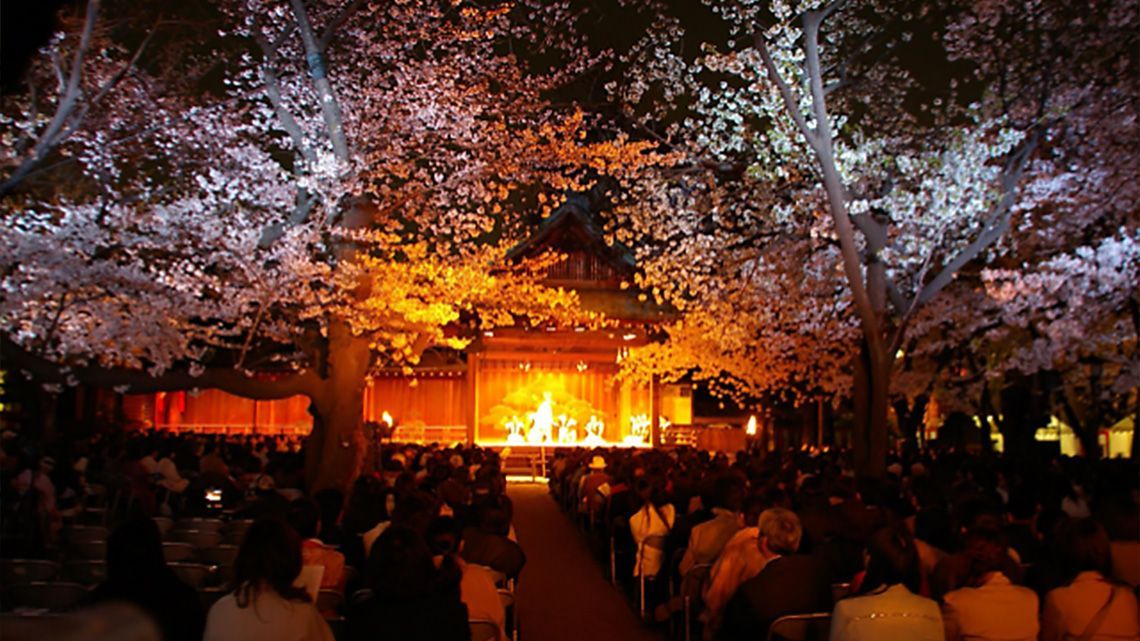 Held annually since 1992, Yasukuni's sakura season special sees traditional plays performed under the shrine's blooming cherry trees. In addition to Noh, the programme includes kyogen (comedic spoken drama) plays and maibayashi (an abbreviated style of Noh with music), with top performers like Mansai Nomura having taken to the stage in recent years. Tickets can be purchased by phone (0570 00 3337) – in Japanese only, unfortunately.
Where: Yasukuni Shrine , Kudanshita
When: Tuesday April 3 2018 - Thursday April 5 2018
Related articles from Time Out Tokyo
Best yakitori restaurants in Tokyo
Cheap things to do in Tokyo
Tokyo's best home and lifestyle stores