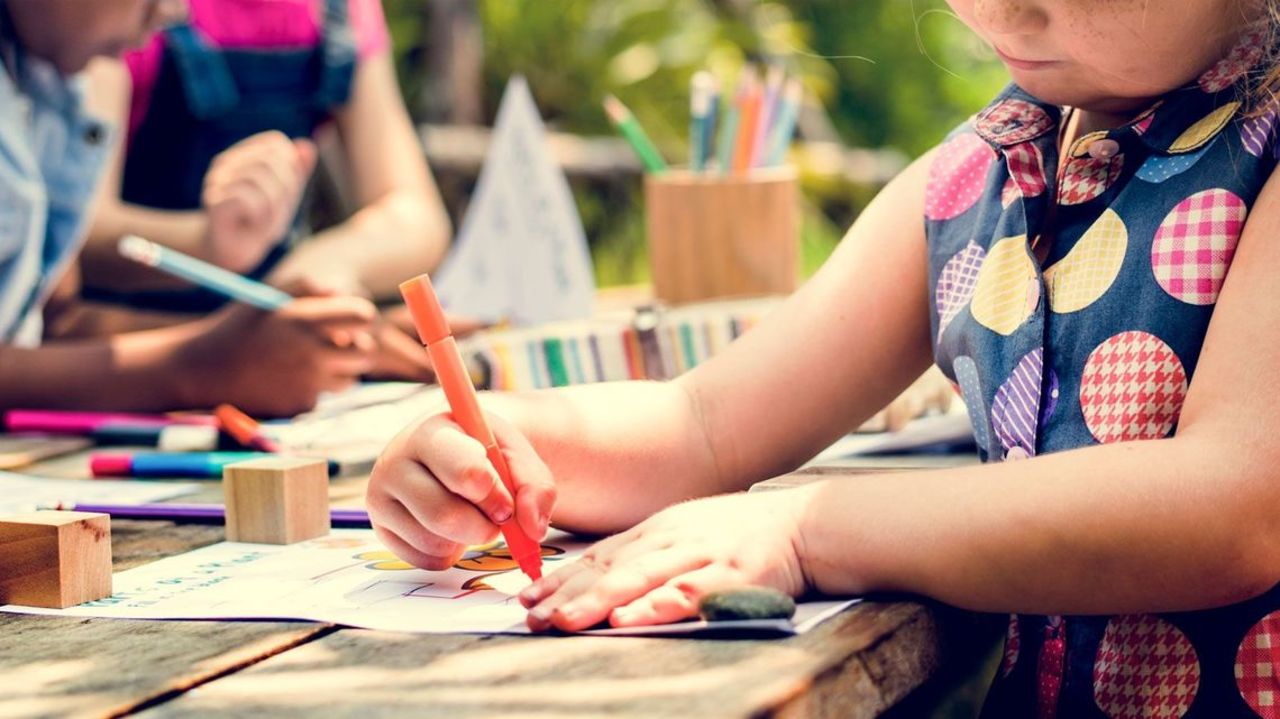 Many parents save for over a decade to fund their child's college education. The average cost is $33,480 at private colleges and $9,650 at public colleges, according to the College Board. But some parents are choosing to spend $30,000 or more on their 5-year-olds' kindergarten instruction.
With slogans such as, "Exceptional Foundation. Remarkable Life," it's no wonder why some parents are willing to pay top dollar.
Most of us think of kindergarten as an introduction to a formal school setting for five-year-olds, to prepare them for starting the first grade. The word kindergarten derives from a German word meaning, "children's garden."
Traditionally, students attended three-hour programs (half-day), but many schools now offer full-day programs (about six hours) that are similar to the school's elementary class schedule. Although considered the first step in formal education, the atmosphere in kindergartens is kept quite lenient and there is no pressure on kids.
But for those parents striving for a "remarkable life" for their kids, they would have to turn to The Bryn Mawr School. As the school's motto suggests, this all-girls private school located in Maryland promises 5-year-olds extraordinary schooling.
Offering private education from pre-K to 12, an "exceptional foundation" at kindergarten level runs at $26,290. This excludes incidentals and the extended day program. For the latter, parents pay $1,910 on a monthly basis for care from 3:30pm-6pm. For a 9-month school year, parents could spend an additional $17,190, bringing the cost of kindergarten to $43,480, at a minimum.
Lower School Director, Laurie Vennes, stated on the school's website that some of the enhancements to their kindergarten academic curriculum include character education, a computer science and engineering program, music and movement and world languages.
The typical goal for most kindergartens is for kids to learn how to focus, know their ABCs, and understand basic math, science and social studies. Engineering and world languages are not on the list for many. That is why some parents choose private schools.
One in four of American kindergartens is private, and more than 5 million students (one in 10) attend them. This is according to the Council for American Private Education (CAPE), a national organization that represents private schools. In the U.S., these elite kindergartens are mainly located in prep schools that have existed for centuries.
If you speak to any parents sending their kids to a private kindergarten, they would say that the advantages of such schools include enriched academic opportunities, smaller classes, parental involvement, and dedicated teachers, to name a few. But what do these schools offer that you can't find at a public kindergarten?
These elite kindergartens have science labs, pottery studios, sustainable garden roofs and yoga corners for every child in the class, according to CNN Money.
Besides superior facilities, a kindergartener can engage in archeological "digs," sculpture projects, computer readiness. Others, like Bennett Day School, has its main classrooms encircling a white-walled "TinkerLab" where kindergarteners have "a really hands-on, projects-based experience," according to the founder and CEO, Cameron Smith. This TinkerLab has wood planks, plywood and pegboard on the wall. Smith sees this TinkerLab as a way to foster a collaborative-based approach to "self-directed" learning. Their methodology is for 5-year-olds to learn by doing.
The school, located in Chicago, also begins each with a "morning meeting" between students and their head teacher where they "declare their intent for the day."
How much does this collaborative and self-directed learning cost? It runs at $24,205 for full-day kindergarten classes, plus a $2,500 new student fee.
These private kindergartens have a hands-on approach that necessitates fieldwork, field trips, homework, and other external educational opportunities. Most of these schools aspire to make their students well-rounded individuals so many consider the spiritual and moral development of children.
But is it worthwhile to spend over $30,000 for a 5-year-old to gain these advantages?
"It's important in terms of networking and associating with other parents who are driven, successful and invested in their kids," said Marjorie Smith.
Smith is a mother of one whose daughter attends an exclusive Boston-area kindergarten with yearly costs of over $30,000. She and her husband made this decision because of the quality of education, the environment, the one-to-one attention of small classes, and the school's global reach.
"Students are around other kids who have similar values and ways of thinking," she said.
Smith found this vital to her daughter's growth and enhanced learning environment. For her, the cost justifies the rewards.
Gladys, a mother of two kids who attended a private kindergarten, disagrees.
Initially, she and her husband sent their kids to a private kindergarten that can cost as much as $30,723 in some cities. These tuition rates are for 5 days per week with aftercare and extended care (3pm-6pm). What did their kids get at kindergarten for that amount?
The school is known for its hands-on approach to learning. This includes the opportunity for kindergarteners to plant a vegetable garden in a local farm. Since the focus is on creative free play, the school deliberately doesn't accelerate academic learning in kindergarten. Their aim is to create a warm, nurturing environment where childhood can unfold.
Gladys and her husband were attracted to this idea, so they chose to send their kids there. Their son went through the entire system from preschool to kindergarten and up to the 8th grade. The results of this investment were not satisfying.
"We found that he had gaps in his education," she said.
The cost didn't justify the results. For this reason they decided to leave private school education and enroll their daughter into an elite public elementary school from the 3rd grade. They have been pleased with her academic growth and the overall program offered at this school.
"We're grateful we made the switch sooner for our daughter," she said.
For those parents choosing property-tax-funded public kindergartens, which are free, the disposable income is used to pay for extra music, art, sports or dance for their children. Some spend the money on travel to further enrich their kids' lives.
For those selecting private kindergartens, calculating the exact costs of these schools can be tricky.
According to the National Association of Independent Schools (NAIS), the average private kindergarten tuition is $18,347. Prices vary from city to city. In New York City, kindergarten tuition can often cost $30,000 or more. These fees don't include items such as lunch, bus service, sports equipment and books. Transportation needs can often add about $2,000 to your overall cost.
Stacey Bradford, author of "The Wall Street Journal Financial Guide for New Parents," cautioned on CBS.com's Moneywatch, that these figures don't include the obligation to make donations.
"While some headmasters may simply hope you'll be generous, others may put pressure on you to give," she said.
NAIS stated that 60% of parents are willing to make donations and give an average of $1,707.
Bradford also pointed to the social obligations parents have at such exclusive schools. She said that if a private kindergarten is a stretch, "you may not like your daughter coming home and asking why your family doesn't get to go skiing during winter break."
Also, kids may want more elaborate birthday parties, fancier clothing or gadgets. This puts pressure on parents to make sure that their child "fits in" even though this could be contrary to their family values.
It's for this reason that Fariha Batool, a mother of two daughters, has chosen to opt out of private and public school. She's decided to home-school her kindergartener.
As a New Yorker, she and her family recently moved to New Jersey to a neighborhood with good public kindergartens. But she has chosen to home-school her 5-year-old to help her gain more self-confidence and maturity before interacting with other kids in a formal school setting. She wants her daughter to be able to think for herself.
"At public school, kids are taught to group-think," she said. "They have to fit into a certain mould and one way of learning and thinking about things."
Batool said that she's able to figure out how her daughter learns and how fast she learns. This helps her cut through the unnecessary clutter that can often come with public education. This individualized attention and teaching her at her own pace is similar to what private kindergartens offer.
"I give her the quality of the more expensive school because I'm more attune to how she learns," she said.
However, Batool doesn't rule out private school.
She echoed Smith's sentiment that such schools are an excellent opportunity for networking and investing in the success of ones child. Given the choice, she said that she would choose a private elementary school in the future. This is partly due to the fact that she attended an all-girls private school while growing up in Pakistan.
"Because of the quality of my education," she said. "I was able to come to the U.S. and make a life for myself."
With the value of English instruction, networking, and the ability to think differently, she said that her private school education made her more open-minded.
"With private schools, your kids get exposed to other kids as bright as yours and it opens their minds to the thoughts of others," she said.
Even so, Batool feels that at 5-years-old, her daughter is getting the kind of academic enrichment that she would be gaining at an elite kindergarten (minus some of the extracurricular activities, etc.).
"With the online resources, scholarly articles, free information and individual attention, my daughter is progressing rapidly, instead of having to go at the pace of the slowest learner," she said.
Ultimately, the choice of how much to spend on kindergarten is a personal one. For those parents who choose to spend top dollar, taking a look at the alumni of these elite kindergartens is encouraging. These alumni include leaders, authors, musicians, Nobel and Pulitzer Prize Winners. Many kindergarteners go on to Ivy Leagues and later found some of the most influential businesses known.
So, for some, there is clear value in this investment, while others have had unfavorable results. Certain choose superior public schools while others prefer to instruct their 5-year-olds at home.
Perhaps an "Exceptional Foundation. Remarkable Life" shouldn't cost $43,480, but if given the opportunity, many parents would take it. After all, who wouldn't want their 5-year-old learning computer science and world languages while chasing butterflies during recess? Even at 5-years-old, such advantages might just give him a remarkable life – or so you hope.