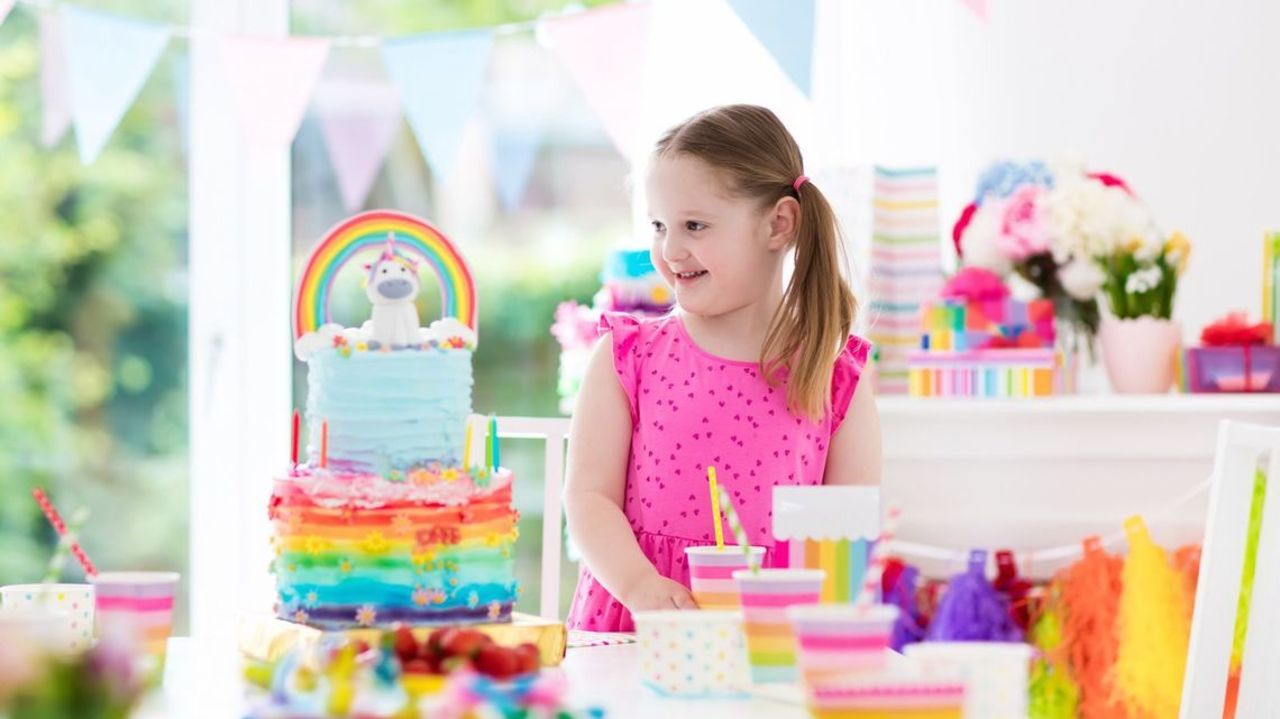 A $100,000 splurge on a child's birthday party seems unimaginable. But that's how much Katie Holmes and Tom Cruise reportedly spent on their daughter, Suri's birthday celebration. According to New York Daily News, this included $45,000 for Wolfgang Puck catering, $17,000 on fresh flowers and a room filled with 1,000 butterflies. She was only 2-years-old at the time.
They were then topped by Beyonce and Jay-Z who, as reported by The Huffington Post, spent $200,000 on their daughter, Blue Ivy's 1-year-old birthday party.
As much as these numbers are astonishing, most people brush it off as typical celebrity spending. But what about a Texan middle class mother, Kim, spending close to $10,000 on her 8-year-old daughter's birthday party? She was showcased on the now discontinued TLC reality show, "Outrageous Kid Parties."
This series showed elaborate parties for children where parents often went beyond their means to have them. That 80s themed party included a roller-skating rink, foam pool, DJ, photo booth, cheerleaders, caricature artist and the rental of a vintage car. All of this did not include presents.
The asset management firm, T.Rowe Price released their 2017 Parents, Kids & Money Survey where they highlighted the cost of kids' birthday parties. Out of the 1,014 respondents surveyed, the average spent around $500 for their kids' birthday parties (excluding the $300 spent on birthday gifts). Some parents even spend more. According to a poll by website Babycenter.com, 26 percent of parents admit to spending more than $500 for their child's first birthday party alone.
Given that birthday shopping is a $10 billion industry, Microsoft's MSN Money said that spending at all income levels has been steadily rising over the past several years. According to MSN Money, the online party supply retailer, Birthday Express said that the size of its orders has been growing 5%-7% annually. This means that more and more parents are splurging on their kids' birthday parties.
"I've done it," said Clarissa Weill, a stay-at-home mother of two. "When you start to add the venue, the magician, the food, the decorations, it easily adds up to $500 at a minimum."
Weill said that as a parent, she felt the need to give her children a sense of joy at all cost. This was especially true when they were younger. She felt that it was important that they felt special for that one specific day. Therefore the cost took a backseat to making sure that she created distinctive memories for her children.
Even if parents choose a popular spot like Chuck E. Cheese, for instance, the cost of a typical party can be anywhere between $140-$220. Christian Rodriguez, who worked as a party host at Chuck E. Cheese said that the chain offers different packages starting at $12.00 per child (star), $17,99 (super star), and $22.99 (mega super star).
"The number of kids will be the determining factor of just how pricey the party will be," he said. "That being said, I have hosted an $84 and $557 party before, so it's as affordable as you can make it or as extravagant as you would like it to be."
For those who choose more upscale birthday parties where an event planner is required, they could be spending $5,000 to $20,000 for their child's birthday.
New York based event planner, Keri Levitt, said that social media is further amplifying the situation.
"We're living in a very stylistic world, where there is incredible inspiration and content online that is visual eye candy," she told Money-ish, the website owned by the Dow Jones Media Group. "You can find a whale party, a pop star party, whatever your child is into. Everything is about the next level of detail."
Pinterest alone has 2,412 glossy pictures of the Best Kids Party Ideas.
Celebrities like Kim and Kourtney Kardashian of Keeping Up with the Kardashians posted their entire Moana-themed birthday party for their daughters (who turned 4 and 5 in June) on social media. This included pictures of food served and the pig petting zoo.
A mom who hosted a rock-climbing party for all the first graders in the class posts those pictures on Facebook or Instagram. You hope that your kid was invited!
All this online sharing takes the concept of 'Keeping up with the Joneses' to the next level. Your child's party is no longer a small, simple, private affair. It's now being scrutinized by those in attendance and your friends who live in other parts of the world. There seems to be more to prove than just making your child happy. Many would also like to impress their friends and neighbors.
It's for this reason that William Doherty, professor of Family Social Science at the University of Minnesota, developed a community engagement project called, "Birthdays Without Pressure." His aim was to raise awareness about the pressures for parents to make birthday parties "bigger, cooler and perfect" and offer alternatives to those who want "cultural permission" to have simple, yet meaningful birthday parties.
Doherty points out how overwhelming and expensive birthday parties can be for parents, but also how large, orchestrated parties can create feelings of "disappointment, envy and stress" in kids.
"They can also begin to feel entitled to what they want, not just what they need," he said. "In the long-term, this sense of entitlement and wanting more can cause materialistic values to form."
It's for these reasons that he offers some recommendations to help parents return to basic (but special) birthday parties. One of the most helpful questions he suggests parents ask themselves is: What are your values for celebrations? Stick to your family's values rather than cultural norms.
Some parents do this by asking guests not to bring presents for their child. Some will ask you to donate to their favorite charity. With regard to the former, my daughter attended her friends' birthday party (twin girls) where guests were asked not to bring gifts. I was hesitant, but my daughter insisted that we not buy any. I complied.
When my daughter presented the card that she had made for them, she was hurt by how dismissive they were. They were more focused on the gifts that other friends had brought. After she told me about it, we decided to buy them gifts. Their mother thanked me for the gifts but said that it wasn't necessary. She said that she and her husband were grateful for the opportunity to explain to their girls the real purpose of birthday parties – the opportunity to share their special day with friends, not just to get.
This is how Susan Hempsell, a mother of two now living in London (where the average party cost is $720) sees it. To her, parties are a real American tradition.
"We have parties for everything," she said. "It's less about glorifying the child but more about another excuse to have a good time."
Hempsell said that the idea is to make the child feel special and for them to share that time with their friends. For her, the enjoyment is to see how all children get into the spirit of birthday parties.
"They are excited about it and are happy to make their friend the centre of attention."
As an expat living in Hong Kong, Susan and her husband had to spend upwards of $1,000 for their children's birthday parties. This had more to do with the cost of the venue, as Hong Kong is mainly apartment-based living. Also, the need to invite the whole class (around 30 kids) and their parents, added to the cost.
After moving to London this year, her 10-year-old had a very low-key birthday party. She opted to have a friend over for a sleepover. It's for this reason that Hempsell believes that it all boils down to family culture, as Professor Doherty pointed out.
"Society doesn't pressure me," she said. "I do what I want to do."
The idea of cowing to cultural pressure can send the wrong message to kids, so she's very careful not to do so.
Hempsell said that most of her peer group consists of moms who don't put their kids on a pedestal. Since their kids have to follow many rules on a daily basis, a birthday party is an earned privilege for them to be individually celebrated - one day in a year.
She has used birthday parties as a way to teach her children gratitude. They have to write handwritten thank you notes for all their gifts and they learn to be gracious hosts. She encourages them to make sure that everyone has a piece of cake, that they hand out party bags and ensure that all their friends feel included. And when her kids attend their friends' parties she makes certain that they thank both the mother and father.
"The dad is usually surprised because he's often the one cleaning up the leftover cake that cost $50 or more."
Regardless of price tag, all parents believe that they're making their child feel special – whether it's a room filled with butterflies, the Chuck E. Cheese "super star" treatment or a capture-the-flag game in your backyard.
Whatever the reason, the cost, the pressure or the fun, a birthday is exactly what it states – a day of birth. Perhaps Kim, the Texan mother who spent about $10,000 on an 8-year-old's birthday, could consider Dr. Seuss's practical observation:
"Today was good. Today was fun. Tomorrow is another one."